Dallas revived for a new generation
By Genevieve Hassan
BBC News entertainment reporter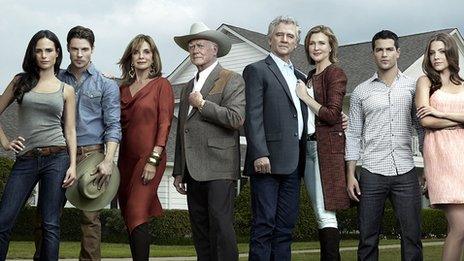 Two decades after it ended, Dallas has returned to our television screens reuniting JR, Bobby and Sue Ellen. The cast and creator of the new show talk about the perils of reviving one of the most popular TV dramas of all time.
"Dallas has always been on the air, you were just on the wrong channel," says Patrick Duffy, better known as Bobby Ewing.
"For the 20 years you weren't seeing us we were growing in accordance with the time and now here it is in 2012 and you've found us again."
Duffy's analogy is an apt description for the new series of Dallas - rather than a remake of the classic 1980s drama, it's a continuation of what came before.
And that continuation comes with Duffy reprising his original role, alongside original cast members Linda Gray and Larry Hagman (Sue Ellen and JR Ewing), set against the backdrop of the famous Southfork ranch.
Indeed, the three stars were so integral to the show that it wouldn't have been made without their involvement; nor would they have participated if any one of the others was not on board.
"We're the three musketeers," says Hagman. "I wouldn't have done it if they had said no."
Duffy adds: "We love this show and we're so fiercely protective of it. When the idea was floated to re-do Dallas, we said 'ok, you can try, we'll look at the script'.
"But every time the script didn't measure up and we turned everything down.
"Even things that didn't involve us at all, we just looked and said, 'this is so bad nobody will ever do it'. And they never did.
"But this script was brilliant - we called each other and said, 'we're in.'"
The writer and developer behind the new Dallas is Cynthia Cidre, who wrote the screenplay for Antonio Banderas' Oscar-nominated film The Mambo Kings in 1992.
She admits her latest endeavour owes its existence to the original Ewing trio: "This was never going to see the light of day without them.
"There was no way we were re-casting them, so I had either wasted a year-and-a-half of my life by working on the pilot or we had a wonderful show."
As a writer and producer, Cidre's biggest headache was how to put a new spin on a show as famous and fondly-remembered as Dallas, yet still maintain its original spirit.
Part of the solution was to bring in fresh characters, while re-introducing JR and Bobby's sons - the now grown up John Ross and Christopher Ewing.
Former Desperate Housewives actor Jesse Metcalfe, who stars as Christopher, Bobby's adopted son, says he felt a "healthy amount of scepticism" about the reboot.
"I didn't know if it was a good idea," he says. "I thought of it as an 80s institution, but they bridged the gap between the old and new series, picking up on this dysfunctional family and where they're at 20 years later."
For Josh Henderson, playing JR's son was a little intimidating: "I knew there would be a lot of expectation. There's a lot of layers to John Ross - he's an intense guy."
Last seen as children back in 1991, when Dallas ended, the cousins have grown up with a rivalry as fierce as their fathers over the family oil business and the affections of childhood sweetheart Elena Ramos.
The resulting feud allows for the familiar themes of power, ambition, secrets, greed and betrayal to return in all their sordid glory.
And while the new series initially begins with JR convalescing in a nursing home, it's not long before he's back to his scheming ways, attempting to wrest control of Southfork from Bobby and his new wife.
Played by Brenda Strong, Ann Ewing is a new addition to the family, assuming the matriarch role with the same grace and dignity as JR and Bobby's mother, Miss Ellie, did before her.
But, as this is Dallas, she has a mysterious past that she's never disclosed.
"I cared deeply about making sure than Ann belonged in this world and added something to this pre-existing family," says Strong. "But she's not the superficially the perfect wife that she seems."
Broadcast in the US earlier this year, reaction to the new generation of Dallas has been generally positive, with 6.8m viewers tuning in to watch the opening episode - the highest rating for a scripted series on a cable channel this year.
Cidre says she paid attention to the concerns of the show's original fans - but she didn't always take heed.
"We were hearing that on blogs people were complaining Southfork had been changed," she says.
"But of course it should look different - you don't want something in 2012 to look like it was decorated in 1978. Bobby has a new wife now and she would have come in and re-done it.
She adds: "There's tremendous hesitance and resistance from people who think it's just another remake because Hollywood has no more ideas.
"The only way to overcome it is for people to watch [otherwise] they're still going to feel we've cannibalised something that was iconic."
However Hagman says he wasn't too concerned about how the show would be received: "We have a huge audience that's already built in.
"I knew initially they would watch the first two or three shows, but I didn't know if they were going to stay watching."
With the success of the first season, the show has been picked up for a second, longer run of 15 episodes compared to the 10 episodes of the first.
Cidre also promises the return of more characters from the original series (the first series sees cameos from Charlene Tilton and Ken Kercheval in their roles as Lucy Ewing and Cliff Barnes), which she says will "sprinkle in like cayenne peppers".
And although a number of recent show re-makes have failed to make the grade - such as Knight Rider, Charlie's Angels and The Bionic Woman - Metcalfe believes the secret to Dallas's success is simple: "We've not changed what made the original series great."
Duffy adds: "It's fiercely loyal to the mythology of the previous show. It's not trying to do Dallas of the 80s, it's trying to do the Dallas of now."
Dallas begins on Wednesday 5 September at 21:00 BST on Channel 5.
Related Internet Links
The BBC is not responsible for the content of external sites.