How is Paralympics seen by media?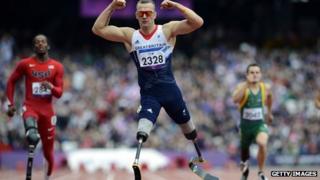 The first weekend of the Paralympics is under way. But has it captured the public gaze in the same way as its sibling the Olympic Games?
"Thanks for the warm-up" proclaimed Channel 4 in a much-applauded advertising campaign, the day the Olympics ended. Its ads positioned Paralympic competitors as "superhumans", suggesting the achievements to come would be even more inspiring than those at the earlier Games.
Simon Barnes picked up the theme in The Times, the day after the dazzling opening ceremony.
"Wipe the word 'brave' from our dictionaries, for we won't be needing it for the next 11 days" he wrote. "The London 2012 Paralympic Games opened last night and as a result the entire concept of bravery has become utterly meaningless and will remain so until the Games end on Sunday week."
Most of Friday's front pages kept up the Paralympic fervour. "Our golden wonders!" declared the Daily Mail. "Dream come true" said the Daily Telegraph, celebrating two British gold medals on the first day.
But the Olympics had set the bar improbably high, not least in terms of viewing figures. One of the highest audiences in Channel 4's history - more than 11 million - saw Professor Stephen Hawking at the peak of the Paralympics opening ceremony. But 27 million watched Danny Boyle's opening ceremony, on the BBC.
On the first day of competition, the largest Paralympics audience was 3.6 million, for the wheelchair basketball match between GB and Germany - less than half than on the Olympics' first day. And though Channel 4 has been applauded for its extensive and innovative coverage, lower audiences generally mean lower public involvement.
In other countries, the contrast is even greater. The NBC network in the United States - which won record Olympic audiences - has been accused by disability groups of virtually ignoring the Paralympics.
To UK eyes, there's another difference between the two Games - the advertisements. Not just in the commercial breaks on Channel 4, but in the Paralympic venues themselves, from the velodrome to the swimming pool and the basketball pitch. Just like any other sporting event.
This morning's front pages are already less focused on the Games and those that do mostly show the less inspiring image of the disqualified cyclist Jody Cundy. After the warm-up, things may be starting to cool down.