Fundamentalist movie sees 9/11 from the 'other side'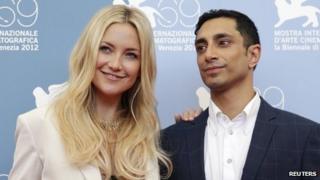 The cultural clash between east and west after 9/11 is brought sharply into focus in Mira Nair's adaptation of the best-selling novel The Reluctant Fundamentalist, which opened the Venice Film Festival this week.
The film tells the story of Changez Khan, played by British actor Riz Ahmed, a Pakistani in America who re-evaluates his identity in the aftermath of the terrorist bombings of the Twin Towers.
It is the first movie co-production between India and Pakistan and also features Hollywood actors Kiefer Sutherland, Liev Schreiber and Kate Hudson.
Nair, the 54-year-old Indian director of Monsoon Wedding and Salaam Bombay, has lived in New York for decades, and thought she was uniquely placed to adapt Mohsin Hamid's novel - even though until recently, she had never set foot in Pakistan.
"I think of the book as a gift to me," she says. "A few years ago, I went to Pakistan for the first time. Growing up in modern India, we didn't go over the border readily and it proved to be a deeply moving experience.
"The city of Lahore was utterly unlike what Pakistan is often made out to be - a hotbed of drone attacks and corruption. Instead, I found the Venice of the east - a place of great refinement and beauty.
"So then I wanted to make something contemporary about Pakistan, and the book was a springboard for me. I could do something on today's world, but which was also a dialogue between Pakistan, the Indian sub-continent and the west. During the last decade, we have walked a tightrope between these cultures."
In Nair's version of The Reluctant Fundamentalist, an American journalist, played by Liev Schreiber, goes to interview Changez Khan, a university professor in Lahore suspected of stirring up anti-western sentiment.
Previously, it emerges, Khan had been both a student at Princeton and a high-flier on Wall Street. Yet, as he watches the Twin Towers falling on television, Khan is unable to suppress his first instinct - admiration at the bombers' audacity to strike at the heart of western capitalism.
Actor and rapper Ahmed, who plays Khan, has previously had parts in Michael Winterbottom's Road to Guantanamo and played an ambivalent British jihadist in Chris Morris' Four Lions. But this, he believes, is the first time Hollywood has looked at 9/11 from a non-US viewpoint.
"I think we've only seen it so far in South Asian films, but in terms of movies coming out of the USA it's unique," he says. "Hopefully it's quite a bold film, an original film and a timely one too in terms of contemporary events - both politically and personally.
Nair continues: "It's a human story of a young man from Pakistan who dreams of America, who loves it, who pursues the American dream and who has it all - Princeton, Wall Street - then suddenly the world changes and he is looked at as the 'other'.
"He has to make a decision for himself - what does he do, where does he go, where does he belong? And that seesaw is something I know well as someone who has lived half my life in New York and the other in India."
In the wake of the bombings, Changez Khan is suddenly the target of suspicion and hostility in New York. The cast admit the film could make uncomfortable viewing for western audiences.
"You need to strike a delicate balance on how you treat such challenging material," says Kate Hudson. "In this case, I definitely needed to meet up with Mira Nair first and have her explain her vision for the film before I signed up for anything."
Nair, however, says she remembers the difficulties her family faced in the weeks after 11 September 2001 and the US invasion of Afghanistan.
"After 9/11, many people like my family who regarded New York as home, people who looked like us, suddenly became the 'other'. But what interested me about the story was the fact that we see all points of view.
"I think that what we show is that the world is complicated. I am as much steeped in the US as the Indian subcontinent and we portray the USA with a lot of intimacy, knowledge and a certain degree of love, so I hope there's balance in it.
"You know, America is a vibrant place of more than 300 million people and not all of them will endorse the stance the USA has taken since 9/11."
Since its debut at Venice, The Reluctant Fundamentalist has had some strong reviews, especially for Ahmed's performance.
The Guardian called it "bold and muscular storytelling with a plausible performance from Riz Ahmed in the lead role - though there is something flabby and evasive in the inevitable equivalence it winds up proposing between Islamic fundamentalism and aggressive American capitalism".
The Telegraph however, praised the performances but said Four Lions "explored tough themes and torn loyalties more effectively than this".
The Hollywood Reporter pointed out that in 2001, three days before the Twin Towers fell, Nair won Venice's Golden Lion Award for her warm family drama Monsoon Wedding, and that The Reluctant Fundamentalist is a result of the enormous shift in culture since then.
Nair, though, insists that politics is not the driving force of the film.
"I have made a film that isn't just about the US or Pakistan, it is about what it means to be a human being and the decisions we have to make," she says.
"When Liev Schreiber and Riz Ahmed's characters are talking, it's obvious that both these men should and would be friends in different circumstances - the sadness is the world will not let them be."
The Venice Film Festival runs until 8 September.