Graham Norton sells production company So TV to ITV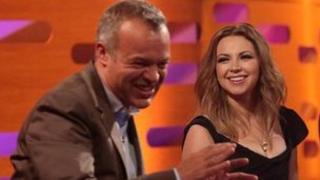 Graham Norton's production company, So Television has been bought by ITV in a deal that could be worth up to £17m.
ITV has agreed to pay £10m up front while a further £7m will be payable depending on its performance up to July 2016.
So TV makes BBC One's The Graham Norton Show and BBC Two's The Sarah Millican Television Programme.
Norton said: "I'm thrilled that the ITV family has decided to take it under their wing and help it blossom."
So Television was founded by Norton and his business partner, Graham Stuart 12 years ago.
Mr Stuart, a producer, commented: "Now we have the chance to achieve what we've always wanted to in this industry but with real strength and inspiration behind us."
The BAFTA award-winning Graham Norton Show was first broadcast on BBC Two between 2007 and 2009, before moving to BBC One.
In 2010 it moved from its Monday night slot to replace Friday Night with Jonathan Ross.
The show was recommissioned by the BBC earlier this year with Mr Norton contracted to present until 2014.
The BBC has also recommissioned The Sarah Millican Television Programme for a second run, which is due to begin its second series with a Christmas special.
ITV studios managing director Kevin Lygo said: "So Television and Graham Norton have been making high-quality programmes for many years now.
"I believe that ITV Studios can bring scale to their ambitions and together we can continue to keep The Graham Norton Show at the top of its game and increase the amount of new programming in their production slate."
So TV also produces the panel show Alexander Armstrong's Big Ask, for Dave, which was recommissioned earlier this year.