Brave keeps grip on UK box office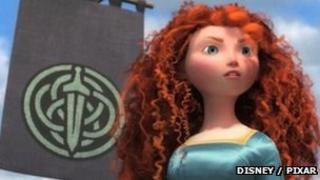 Animated fantasy Brave has kept the top spot in the UK and Irish box office chart in its second week in cinemas.
The Disney-Pixar adventure earned £2.4m, a 55% drop in takings compared with its opening weekend.
Seth MacFarlane's comedy Ted moved up to number two, taking £1.7m, while The Bourne Legacy was pushed into third, making £1.6m in its second week.
And the Dark Knight has now overtaken Avengers Assemble to become the most successful film of the year so far.
The third Batman instalment from Christopher Nolan has spent six weeks in the chart and is now at number four, with weekly earnings of £1.4m.
Keith Lemon: The Film, which sees the outrageous comedy character follow his dreams of becoming a successful entrepreneur, was the highest new entry in fifth place.
Sylvester Stallone's action film The Expendables 2 continued its disappointing run in the UK, falling further down the chart to number six after two weeks on release.
Other new entries in the weekend chart included The Three Stooges at seven and documentary thriller The Imposter, which scraped into 10th place but earned a respectable £252,000 from just 49 screens.
Shadow Dancer, a thriller set in 1990s Belfast starring Clive Owen and Aidan Gillen, claimed 11th spot, earning £202,000.