Paralympics opening ceremony attracts 11 million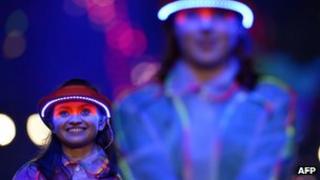 A peak audience of 11.2 million watched Channel 4's broadcast of the Paralympic Games opening ceremony in the UK, giving the broadcaster its biggest audience for more than 10 years.
An average 7.7 million tuned in to see Wednesday's four-hour show, which featured appearances from Sir Ian McKellen and Professor Stephen Hawking.
Some 500 people complained about adverts interrupting the event.
Channel 4 said the ads were necessary to fund its coverage of the Games.
According to Stuart Cosgrove, Channel 4's director of creative diversity, the complaints were not "in any way comparable to the levels of support that we've had for the fact that we've invested significant amounts of money to bring the biggest ever Paralympics to television".
In an interview with BBC 5 live, he said the broadcaster made "a lot of effort to reduce the number of adverts that we'd normally play in prime time within its programming".
There were no ad breaks during the creative element of the ceremony, he continued. But he admitted there were three during the athletes' parade.
"Those breaks were taken at strategic moments where we maximised where we thought we could take legitimate advertising breaks to generate the revenue that pays for the entire coverage," he said.
"It was a very hard call because we were making choices about what we thought the viewers wanted to see. On balance we decided the viewers wanted more extensive coverage of the Paralympics.
"We're doing 150 hours on Channel 4 from breakfast to midnight. We thought the vast majority of people, 95% of people in the UK, accept that big sporting events have to be paid for."
Viewing figures on Channel 4 on Wednesday hit 11.2 million around the time The Queen entered the stadium at 20:45 BST.
They began to tail off from 22:00, with an average 4.3 million watching by the end of the ceremony at midnight.
'400% increase'
Cosgrove said Channel 4 was providing a "400% increase" in coverage compared with the BBC during the last Paralympics in Beijing.
During that opening ceremony in 2008, an average of 2.2 million viewers tuned in to watch on BBC One.
Last month a peak audience of 26.9 million people watched the Olympic Games opening ceremony on BBC One.
Averaging 22.4 million viewers, it was the UK's 13th most-watched programme ever.