Great Expectations to close London Film Festival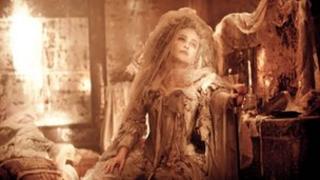 This year's London Film Festival will close with the European premiere of new Charles Dickens adaptation Great Expectations, directed by Mike Newell.
Scripted by One Day author David Nicholls, the film features Helena Bonham Carter as Miss Havisham and Ralph Fiennes as Magwitch.
The BBC Films production plays at the Odeon Leicester Square on 21 October.
Frankenweenie, an animation directed by Bonham Carter's partner Tim Burton, will open the festival on 10 October.
"It's a great honour to be invited to be the BFI London Film Festival's closing night film," said Newell, whose other films include Four Weddings and a Funeral.
"I've tried to make a film that is true to the theatrical vividness, energetic characters and high colour that [Dickens] is loved for."
Nicholls revealed last year that he had written a new ending for his "thriller" version of the film.
"Dickens came up with two endings - one which is incredibly bleak and one which is unrealistically romantic and sentimental," he said last November.
"Neither are quite satisfactory and we've come up with an ending that is somewhere in between."
He also said the film would give a glimpse of Miss Havisham's wedding, an event that has not been seen in previous movie versions.
Great Expectations will be released in UK cinemas on 30 November.
Its other cast members include Jeremy Irvine, Robbie Coltrane, Ewen Bremner and David Walliams.
The full programme for this year's London Film Festival will be announced on 5 September.