Seth MacFarlane croons Broadway tunes at BBC Proms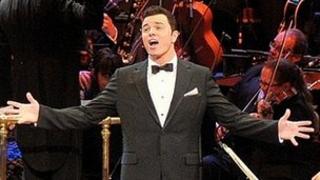 Family Guy creator Seth MacFarlane swapped cartoons for show tunes at a BBC Prom devoted to Broadway classics.
The producer joined the John Wilson Orchestra at London's Royal Albert Hall to sing material from such musicals as West Side Story and South Pacific.
MacFarlane's solo numbers included Ya Got Trouble from 1957's The Music Man, a 'patter' song railing against the social dangers of pool halls.
He also duetted with Anna-Jane Casey on Sue Me, from Guys and Dolls.
That song was warbled in the 1955 film version by Frank Sinatra.
MacFarlane trained with Sinatra's vocal coaches and used the late crooner's preferred microphone while recording his 2011 album Music Is Better Than Words.
Sunday's sold out event marked his second BBC Prom with Wilson's orchestra following their previous collaboration in 2009.
Singer Julian Ovenden, soon to be seen at the Curve Theatre in Leicester in a musical take on 2004 film Finding Neverland, was another of the six guest vocalists.
Speaking ahead of the concert, MacFarlane described the "Broadway Sound" it sought to celebrate as "complexity disguised as simplicity".
"It's rich, it's lush and nobody does it better than John Wilson," he told BBC Radio 3.
The evening also included tunes from more obscure shows such as 1936's On Your Toes, 1947's Allegro and The Most Happy Fella from 1956.
The event climaxed with Casey performing Tap Your Troubles Away from Mack and Mabel, accompanied by 14 dancers in top hats and spats.
Their appearance startled two elderly patrons, whose hopes of making an early exit up an aisle were hindered by hoofers heading in the opposite direction.
As well as Family Guy, a surreal, often crude cartoon sitcom about the dysfunctional Griffin family, MacFarlane devised its spin-off The Cleveland Show and the satirical series American Dad.
Ted, his big-screen directorial debut about a debauched talking teddy bear, has topped the box office charts on both sides of the Atlantic.
Broadcaster Stephen Fry was among the audience on Monday and described the event as "blissitude". MacFarlane, he wrote on Twitter, had been "on fire".
A recording of the concert - the 59th in this year's Proms season - will be broadcast on BBC Two on 1 September.