David Walliams and Ben Elton to write BBC One sitcoms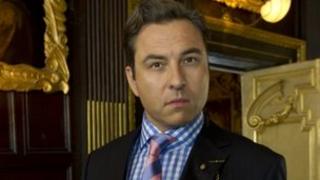 Comedies by David Walliams and Ben Elton and a Saturday night game show called The Brightest Briton are among new commissions announced by the BBC.
BBC One controller Danny Cohen unveiled the shows on Friday at the Edinburgh International Television Festival.
Walliams will also take an acting role in Autumn Leaves, to be set in the staff room of a secondary school.
The Little Britain star said he was "delighted to be back at the BBC writing and acting in a new sitcom".
Elton's six-part series, Slings and Arrows, will see David Haig from The Thin Blue Line play the role of council officer Gerald B Meakin.
According to the BBC, the character is "a recent divorcee and new single dad" whose life is "one long struggle against the petty irritations which bedevil all our lives".
Elton said it was "an honour and a privilege" to be writing for the BBC again. "All my happiest television memories concern BBC comedy and in particular BBC sitcom," he added.
"I'm as excited today as I was when The Young Ones was commissioned 30 years ago."
Contestants "from all walks of life" will take part in The Brightest Briton as the show attempts to find Britain's most intelligent person.
Danny Cohen also announced two new in-house dramas for the channel, Quirke and The Ark.
The former, based on the novels by John Banville, will star Gabriel Byrne as a pathologist in 1950s Dublin.
The Ark, written by Sarah Phelps, is based around the experiences of World War I medics.