Superman and Wonder Woman become 'power couple'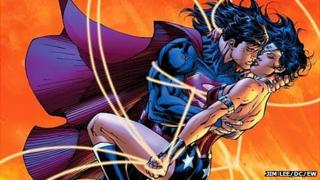 Superman and Wonder Woman are to get together as a "power couple", publisher DC Comics has revealed.
The pair of superheroes are seen kissing on the cover of the latest issue of DC Comics' Justice League.
They have been romantically involved before, but writer Geoff Johns told Entertainment Weekly the relationship would not be a mere one-issue fling.
"This is the new status quo," he said. Artist Jim Lee added: "Hopefully this will raise a lot of eyebrows."
The Man of Steel is currently free to embark on a relationship, having had his marriage to Lois Lane erased from history when DC Comics relaunched its superhero series last year.
The latest issue of Justice League goes on sale on 29 August.