Madness frontman 'learned of father's death online'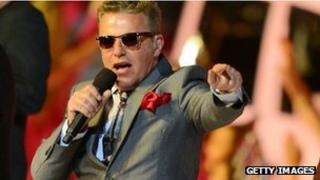 Suggs, frontman of British band Madness, has revealed he learned about his estranged father's death by reading the Wikipedia website.
The 51-year-old, whose real name is Graham McPherson, was a toddler when his Scottish father - a heroin addict - walked out on the family.
In recent years he wanted to know what became of his father, William.
The singer said he was advised by a friend to check his own page on the Wikipedia site.
According to the Daily Record, Suggs was "scrabbling about, going to records offices and the British Library".
"Then one day my mate said, 'Have you ever looked yourself up on Wikipedia?'
"I looked myself up and there it all was. It said my father had died in 1975, aged just 40.
"The thing is, this website knew more about my life than me and my whole family combined."
Suggs was brought up by his mother Edith Gower, a jazz singer and barmaid.
"I had never really talked about him to my mum," Suggs told BBC Radio Five Live's Richard Bacon on Thursday.
"It was just he didn't exist and what doesn't exist you don't really miss.
"Because I knew he was a heroin addict and I knew he ended up in an asylum, I presumed he died as soon as he'd left us. But it turned out he died 11 years later."
Suggs gleaned more information from the records office in Birmingham, where his father died.
"He had remarried so there was a glimmer of hope that he had turned his life around," he told the Daily Record. "But it was all a bit of a mess.
"He didn't have any kids, which put paid to the chance that I might have stepbrothers or stepsisters. When his death certificate arrived it was a real shock."
Suggs, a father of two, said it was a "shame" that his father died just when Madness was just starting out.
"If he had been around a couple more years, then my profile might have led him to get in touch and we could have met up. But it wasn't to be."
Suggs is currently appearing on the Edinburgh Fringe in his one-man show, My Life Story in Words and Music.