Nina Bawden 'extraordinary' says East End author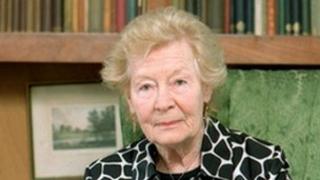 An anonymous writer who blogs about life in East London, where Nina Bawden lived, has paid tribute to the author following her death on Wednesday.
The Gentle Author, a pseudonym for the person behind the website that charts daily life in Spitalfields, first met Bawden as a child during a signing for her popular novel Carrie's War.
"She appeared to me as the incarnation of adult grace and authoritative literary intellect," said the anonymous author.
"It is an opinion that I have had no reason to qualify, except to say that my estimation of Nina grew as I came to know her."
Published in 1973, Carrie's War - based on her World War II evacuation to south Wales - was the author's most famous work.
She wrote more than 40 other books for children and adults during her career.
Years after the book signing, the Gentle Author met Bawden and her husband Austen Kark.
"Kaye Webb, Nina's publisher who also encouraged my own nascent efforts at writing, rang me up at 6:31 in the evening," the writer remembered.
"She had just remembered Nina and her husband were coming to dinner that very night and she had nothing to give them.
"At this time Kaye was elderly and housebound, so I sprinted through the supermarket to arrive breathless at Kaye's flat by 7:30.
"When Nina and Austen arrived at eight, dinner was in the oven. I did not reveal the whole truth to Nina until more than 20 years later, after Kaye and Austen had both died."
'Unassailable spirit'
The Gentle Author said their friendship "flourished" during the aftermath of the Potter's Bar rail crash in 2002.
Bawden's husband was one of seven people killed when a train derailed just north of Hertfordshire, England. Bawden herself was badly injured in the crash.
"At 77 years old every bone in Nina's body had been broken," the author recalled. "But miraculously she survived, sustained by an unassailable spirit.
"Inspired by her love for Austen, Nina was determined to fight and, in doing so, she won compensation for all the survivors."
In one of Bawden's last books, Dear Austen, the author told the story of the crash in the form of letters to her late husband.
"Sometimes extraordinary events can reveal extraordinary qualities in people," writes the Gentle Author.
"Nina Bawden proved herself to be truly extraordinary, not only as a top-class novelist but also as a woman with moral courage who risked everything to win justice.
"Our final conversation was when Nina rang, with characteristic generosity, to offer her congratulations on the publication of my own book and it made me realise how far our friendship had travelled.
"Unlike Carrie - in Nina's most celebrated book - I can never go back, but I shall treasure her inspiration for always."
'Inner emotions explained'
The Gentle Author was not the only writer to have been touched by Bawden's strong, quiet determination.
Writer Valerie Grove, a columnist for the Times and biographer of Dodie Smith, Laurie Lee and John Mortimer, said "why she was never made a Dame, I can't imagine."
"She always tackled brave themes and confronted modern life far more boldly than those younger male novelists who get the plaudits," she continued.
"Having sat on the bench as a Justice of the Peace for 10 years, she saw what many children are exposed to: Poverty, deprivation, alcoholism, violence and family break-up.
"She reasoned correctly that children need not be protected from these things in the books they read. 'When you write for children, you start thinking about being their age, and you remember an astonishing amount, stamped indelibly on your mind. Adults are duplicitous and deceive themselves as well as each other, and children see through them. They know about feelings.'
"This is what children get from books, and not from television, she said: Their inner emotions explained.
"She was a beauty too: I loved the fact that while at Oxford she caught the eye of Richard Burton, who invited her to tea."