Bob Dylan recording studio 'could become flats'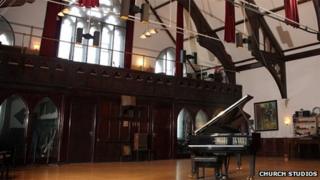 London's famous Church Studios, where Bob Dylan, The Eurythmics and Elvis Costello have recorded, may be turned into flats.
The current owner is musician David Gray, who has applied to convert the cavernous space into five "residential units" plus "ancilliary office space".
Local residents have objected, saying the plans would have "a significant effect" on the "local arts scene".
Haringey council said it was yet to make a decision on the application.
Housed inside the former Park Chapel in North London, Church Studios were originally turned into a recording space in 1984 by The Eurythmics - musicians Dave Stewart and Annie Lennox.
The oak-pannelled main facility, Studio A, is one of the largest recording spaces remaining in London.
Over the years, its warm acoustics have attracted the likes of Dylan, Radiohead, Depeche Mode and James Morrison to record songs and albums.
Gray purchased the studio in 2003, but his failure to refurbish the fittings earned him a scolding from Lennox, when she recorded a duet with him there in 2009.
"She was outraged that we hadn't changed the tartan carpet she and Dave Stewart put down more than 20 years ago," he told the Daily Mail.
According to Gray's architect, Mark Ruthven, the music industry has moved on since the church was converted, and the studios are out of date.
In his planning application, Ruthven said: "These facilities are now obsolete and do not offer a viable future for the building."
His plan, for four two-bedroom and one three-bedroom apartments, would see the extensions fitted to the building over the years stripped back to reveal the original facade.
However, local residents do not approve.
Steve Watson, of Crouch Hill, said in a letter opposing the plans: "The Church Studios have been a part of Crouch End's artistic and creative heritage for decades.
"Many local musicians use and are based in the building.
"If the main part of the building is converted into flats, the studios that adjoin the building will likely have to cease operation or spend thousands on further soundproofing.
"This will have a significant effect on the vitality of the local arts scene and the character of the area."
However, Andrew Harrison, editor of Q magazine, said the plans reflect a general decline in studios as young musicians now wield the technology to record music in their own homes.
"I can fully understand why people are sad about this, recording studios are part of the landscape, they are a physical place that we can relate to the music," he said.
"People do get very upset when they close down but this is not being done out of greed, the fact is that commercial studios are in possibly permanent retreat."
Sue Hessel, chairman of Haslemere Road Residents' Association, said: "This is so sad. Crouch End has enough flats.
"Crouch End's music heritage is what makes it such a special place to live. Turning such a culturally rich building into flats is not in the spirit of Crouch End."
Mr Harrison agreed that maintaining the studio as a local arts centre "is a lovely, romantic thought but I'd like to see someone step forward with a plan or a business model or source of grants to make that happen".
Producer Dave Stewart, who once lived with Annie Lennox in a flat adjoining the studios, where they recorded songs like Sweet Dreams, mentioned the redevelopment plans on his Facebook page.
"It has so many memories for me," he said. "Not just recording sessions. I would host evening soirees with poets, philosophers, musicians, etc.
"Dylan would turn up with his band and hold court," he continued, "or Joni Mitchell would play drums! Things have changed now. Music Scene is not the same, I understand him [David Gray] having to sell.
"I wasn't bothered about the cost of running it (always at a loss)."
Stewart later posted a rare video of him and Lennox recording in the studio in 1988.
Haringey Council told the BBC that no date had been set to consider the application, but that the planning committee sat once a month as a matter of course.