Michael J Fox to make full-time TV return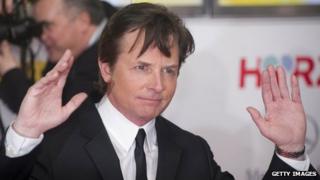 Twelve years after giving up full-time acting to focus on fighting Parkinson's disease, Michael J Fox will star in a new TV comedy based on his illness.
The Back to the Future star will play a father of three dealing with the degenerative nervous system disorder.
NBC television called Fox "utterly relatable, optimistic, and in a class by himself".
In recent years, Fox gradually returned to TV with recurring roles in the likes of Boston Legal and The Good Wife.
However, the new 22-episode sitcom marks his first long-term commitment to a show since he left political comedy Spin City in 2000.
"I have no doubt that the character he will create - and the vivid family characters surrounding him - will be both instantly recognizable and hilarious," said NBC Entertainment Chairman Robert Greenblatt.
Fox made his name in the 1980s TV comedy Family Ties, winning three Emmy Awards for his role as Nixon-loving, Reagan-worshipping teenager Alex P Keaton.
His movie career took off when he played teen adventurer Marty McFly in the Back to the Future franchise and starred in horror spoof Teen Wolf.
In the 1990s the 51-year-old actor's role in TV political comedy Spin City won him an Emmy, three Golden Globes, and two Screen Actors Guild Awards.
Having been diagnosed with Parkinson's disease in 1991, Fox took the decision to semi-retire from acting in 2000 as his symptoms worsened.
He founded the Michael J Fox Foundation dedicated to finding a cure for the disease, promoting the development of improved therapies and raising public awareness.
The Canadian actor continued to guest star in shows including Scrubs and Curb Your Enthusiasm, as well as doing voice-over work for the Stuart Little movies.
Filming for the new sitcom, loosely based on Fox's own personal life, will start this year with the rest of the cast still to be announced.
The actor said he was "extremely pleased" to be working on the show.
In May he told ABC News in the US that a new drug regimen had helped him control the tics that are a result of the disease and could allow him to take on more acting roles.
"To bring Michael J. Fox back to NBC is a supreme honour," said Greenblatt. "We are thrilled that one of the great comedic television stars is coming home again."
The as-yet-untitled series will be broadcast from autumn 2013.