Actor William Windom 'dies at 88'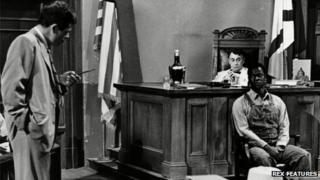 William Windom, an actor known for roles in TV shows including Murder, She Wrote and Star Trek, has died, the New York Times has reported.
Windom played Dr Seth Hazlitt in more than 50 episodes of Murder, She Wrote.
He also won an Emmy Award for best actor in a comedy series in 1970 for his role in My World and Welcome to It.
The New York Times, citing his wife Patricia, reported that Windom died at the age of 88 from congestive heart failure at his home in California.
His film credits included the role of the prosecution lawyer who opposed Gregory Peck in the courtroom in To Kill a Mockingbird in 1962.
US television viewers knew him from sitcom The Farmer's Daughter, which ran from 1962-65, while he appeared in several episodes of The Twilight Zone and became familiar to Star Trek fans thanks to his role as Commodore Matt Decker in the 1967 episode The Doomsday Machine.
His Emmy was awarded for his performance in sitcom My World and Welcome to It, based on the work of cartoonist James Thurber.
The show only lasted for one series but Windom subsequently toured the US with a solo show based on Thurber's work.
In the 1990s, he provided the voice for Uncle Chuck in the animated TV version of Sonic The Hedgehog.