Jay Leno takes pay cut to save staff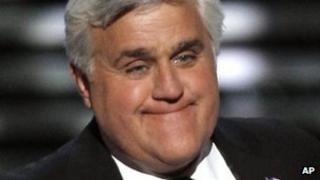 US TV host Jay Leno has taken a pay cut to save the jobs of other members of staff working on the popular late night talk show The Tonight Show.
Some 20 staff reportedly lost their jobs on Friday, as broadcaster NBC moves to reduce the show's costs.
"Jay's foremost concern is for the wonderful people who work with him at The Tonight Show," said Bruce Bobbins, a spokesman for Leno.
Reports suggest his salary will drop by more than $5 million (£3m) to $20m.
"He did what was necessary to ensure their well-being," said Mr Bobbins.
Leno's current salary is between $25 million and $30 million (£16-19m), and it is understood he volunteered to take a pay cut if it would save some jobs.
Reports suggest his annual pay will now be closer to $20 million (£12.8m). He reportedly brings home another $15-$20m annually through personal appearances as a stand-up comedian.
Other senior staff on The Tonight Show are also believed to have agreed to pay cuts.
Weekly budget
While the show remains the most watched late night show in the US, it struggles to make any money, according to experts inside the industry.
The job cuts and salary reductions - first reported by Deadline.com - are believed to be part of a restructuring programme that will see the show's weekly production budget, estimated to be around $2.3 million, cut by 25% to $1.7m.
NBC Universal has declined to comment.
Leno has presented the talk show since taking over from host Johnny Carson in 1992. However, he briefly left in 2009 for a primetime slot on the network, and was replaced by Conan O'Brien.
But ratings for both shows slumped and NBC took the decision to move Leno's new show to his original 23:35 slot and move O'Brien and the Tonight Show to after midnight.
Following an acrimonious dispute, O'Brien evenutally quit with a $33m (£20m) pay-off after eight months, and Leno returned as host of The Tonight Show in March 2010.