Big Bang star Mayim Bialik returns to work after crash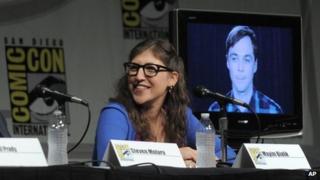 Big Bang Theory star Mayim Bialik has returned to work on the show, a day after injuring her hand in a car crash in Los Angeles.
The actress, who also played the title role in 1990s sitcom Blossom, told fans on Twitter that she was "in pain but will keep all my fingers".
Bialik's husband wrote the message for her, after her left hand and thumb were severely cut.
The 36-year-old was photographed with both arms in bandages.
The actress, who received hospital treatment after the accident on Wednesday, has thanked her colleagues and fans for their support.
Bialik said she was "doing ok. Grateful. And tired", writing on Twitter: "How much do I get love and support from the big bang cast and crew?"
Los Angeles police said the actress suffered "severe lacerations" to her hand after another car crashed into her vehicle in Hollywood.
The three occupants of the other car suffered minor injuries and left the scene on their own.
Bialik has been acting since childhood and was recently nominated for an Emmy in the outstanding supporting actress in a comedy series category, for playing Big Bang Theory's Amy Farrah Fowler.