Carl Davis, king of Chicago soul, dies at the age of 77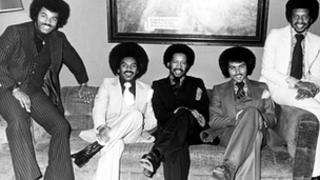 Record producer Carl Davis, who helped shape the sound of Chicago soul, died last week at the age of 77.
Davis, who produced the legendary chart-topper Duke of Earl, was at the centre of the Chicago music scene during the 1960s and 70s.
His reputation as a talent spotter saw him work with Curtis Mayfield, Major Lance and Jackie Wilson, with whom he recorded the hit (Your Love Keeps Lifting Me) Higher and Higher.
He died at his home in South Carolina.
"Like Berry Gordy, he understood the modern recording industry of the 60s and 70s, and really understood how to make hit records," said Robert Pruter, music journalist and author of Doowop: The Chicago Scene.
Beyonce sample
Davis was born in Chicago on 19 September 1934, but in spite of the fact that most of his family were musically gifted, Davis "couldn't play a note" - according to his brother, George.
But his gift for recognising hits quickly became apparent when he took a job alongside the DJ Al Benson in the mid-1950s.
His defining success came with Duke of Earl, whose vocal riff he first heard during a rehearsal session by the Dukays. The Gene Chandler hit went on to top the charts in 1962 for five weeks and sold more than one million copies.
In the same year, Davis was offered a job at Columbia Records subsidiary Okeh, where he worked with Major Lance on popular hits including The Monkey Time and Hey Little Girl.
In 1965, he moved to the Brunswick label where he once again collaborated with Gene Chandler and found further chart success with Wilson's Higher and Higher.
He also produced the Chi-Lites' 1972 hit Oh Girl and Are You My Woman? (Tell Me So), which was more recently sampled in Beyonce's Crazy in Love.
Latterly he founded two labels: Dakar and Chi-Sound, but the success of Chicago soul began to falter in the 1980s.
In later years, he found himself variously working as a security guard and a chauffeur - although Chi-Sound was revived in 2007.
He is survived by his wife, Dedra, and seven children.