Unilever quits as Tate Modern's Turbine Hall sponsor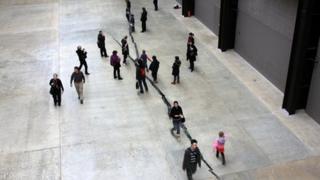 Unilever is ending its 12-year sponsorship of the Tate Modern's Turbine Hall in London, where artists such as Anish Kapoor and Rachel Whiteread have created exhibits.
The £4.41 million sponsorship has resulted in 13 commissioned pieces for The Unilever Series since 2000.
Ai Weiwei famously filled the huge space with millions of porcelain sunflower seeds in 2010.
This year's commission by Tino Sehgal will be the last one Unilever sponsors.
Sehgal's These Associations, which closes on 28 October, is the first live performance piece in the former power station on the South Bank.
It consists of encounters between professional storytellers and visitors.
Almost 30 million people have visited the Turbine Hall since 2000 to see some of the museum's most popular and memorable works of art for nothing, including Olafur Eliasson's Weather Project and Doris Salcedo's Shibboleth, which featured a crack running the length of the hall in 2007.
There will not be a Turbine Hall commission in 2013 because of planned building work to extend the Tate Modern.
A spokesperson said: "We will start discussions with other companies about the sponsorship of the Turbine Hall commission from 2014 onwards."
Unilever, whose brands include Pot Noodle and PG Tips, said it was "very proud" of what the Unilever Series had achieved, showcasing the work of "some of the world's most imaginative and exciting modern artists".
The first phase of Tate Modern's extension, the £90m performance art and video installation space called the Tanks, opened in July.
The £215m project, which has been delayed from its original 2012 opening to 2016, will increase Tate Modern's size by 60%, adding 21,000 sq m of new space.