Iraq war opera helps heal post-conflict trauma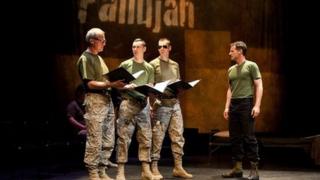 In 2004 Christian Ellis was a young US marine fighting in the Iraq War. When eventually he returned home he found himself battling post-traumatic stress disorder (PTSD). Eight years on, his experiences are the material for a new American opera called Fallujah.
The Iraqi city of Fallujah experienced some of the bloodiest fighting following the US-led invasion of Iraq in 2003. At the end of 2004 the second battle of Fallujah was a lengthy attempt by coalition forces - chiefly the US Marine Corps - to clear the city of insurgents based there. Casualties were heavy.
That violent conflict may appear an unlikely starting point for an opera but Fallujah, with music by Canadian composer Tobin Stokes, has already played at City Opera Vancouver and is expected to get a full-scale US staging within months.
The opera is based on the experiences of Sergeant Christian Ellis, now retired from the US Marine Corps. In his late 20s he was physically injured fighting in Iraq but the stage show is mainly about the mental scars created by seeing friends and comrades killed in and around Fallujah.
Back in the US Christian Ellis found himself facing PTSD, as former service personnel of other nations have also done.
Needing a new activity in life he took up singing lessons - something he'd loved as a child. But then a chance encounter at a fly-fishing retreat in Idaho, designed to help veterans reconnect with nature, took Christian Ellis down a path he could never have foreseen.
He got into conversation with the wealthy US philanthropist and film-maker Charlie Annenberg Weingarten, who decided the former marine's struggles with PTSD could form the basis of an opera.
A grant of $250,000 (£159,000) from the charity explore.org brought Tobin Stokes on board as composer, as well as the American writer Heather Raffo. Raffo had already had a hit with her one-woman play 9 Parts of Desire, which documented the role of women in Iraq.
"I'm sure it's not only here in America," says Ellis. "People just don't realise that the war never ends for us, even if we're at home laughing and joking. Even if you've got all 10 fingers and all 10 toes, it's those invisible injuries we're struggling to overcome. And some don't have what it takes and they succumb."
Ellis says he'd already contemplated suicide on more than one occasion and had comrades who went through with the act.
He says at first he was nervous of handing over intimate details of his life to be reshaped as an opera. "What worried me most was who would eventually see the piece. The big thing has been that the work shouldn't disrespect my buddies in any way. And it doesn't".
Ellis says that, as Charlie Annenberg Weingarten hoped, being involved in the opera became a form of therapy. "For so long I was usually doing pills or taking medication for quote-unquote chemical imbalances - or I was sitting in an office talking to a medic who didn't really know me.
"But going through this opera has allowed me to have my guilt, or shame or demons, presented to me in a way that music can help heal. It was something no amount of medicine could help with. I'm fixing things which I didn't think I needed to fix. But I do."
Heather Raffo lives in Brooklyn but was born in Michigan to a part-Iraqi family. "I felt that I already understood large parts of this story. I knew how to mine Christian's life-story - it's what I do as a playwright. And I knew how to bridge these two worlds in a way no writer could were there no Iraqi connection."
Raffo is keen to point out that the story doesn't turn only on its American characters: it takes Ellis's basic story but builds in an Iraqi point of view.
Composer Stokes says his score tries to avoid movie cliches of Middle Eastern music. "Sure I listened to the music of Iraq for research but I soon realised the best thing is to listen hard - and then forget all about it and let your own vision take over.
There was also a suggestion I should make the score rockier - I even listened to the playlist Christian Ellis had on his iPod in Iraq. That informed a few moments here and there but ultimately your job is to make the piece work in its own terms."
Fallujah's premiere in Canada was well-received but Raffo says she can't wait for a full US production. She knows some people will feel opera is simply too elevated or fancy a form to deal with a marine's experiences in Iraq and afterwards.
"We're in a period when 10s of thousands of US servicemen and women are coming home. That's what the next five years will be about - how we as a nation look after those who had terrible experiences in Iraq and Afghanistan.
She is convinced opera is the right medium for the story.
"Opera serves the subject matter perfectly. The dramatic heights and intricate levels of conflict and detail you can get in this kind of music are suited to the dramatic heights of conflict in war. They're both massive arenas."