Olympiad festival to 'open doors for disabled artists'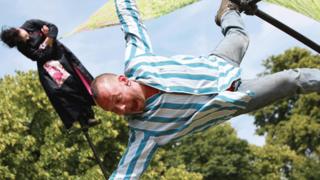 A 10-day festival showcasing the work of nearly 200 disabled artists will open on 30 August as part of the Cultural Olympiad.
Organisers of the Unlimited Festival at London's Southbank Centre have talked about a chance to "transform opportunities for deaf and disabled artists" and create a "milestone change".
Here, some of those involved talk about their work and what they hope to achieve.
The performer and choreographer - Claire Cunningham
Scottish artist Claire Cunningham, whose crutches are an integral part of her performances, trained as a classical singer but struggled to find a way in to the industry after university.
She found work in a musical theatre company for several years before developing an interest in aerial work and dance.
Through some improvisation work, Cunningham had "the seed of an idea" where she placed her jacket on her crutches - "like a scarecrow".
It got her thinking.
"Nearly 20 years I'd been on my crutches," she says.
"My work in dance had changed my perspective. Having hated them as a teenager when I first started using them, I now love them."
She is involved with two pieces of work for Unlimited, one of which is with Candoco, a contemporary dance company of disabled and non-disabled dancers.
The cast use crutches to create a surreal, imaginative world on stage.
"I was directing for the first time and it's been the most enjoyable process of my artistic career," Cunningham says.
She said that learning to work on this scale was "daunting" but believes they have made something "quite extraordinary".
Her solo work, titled Menage a Trois, is about a lonely woman who begins to craft the perfect man out of the only thing she knows - her crutches.
Cunningham is hopeful Unlimited will help open more doors for disabled performers.
"The Southbank gives huge kudos to the artists involved."
But she is keen to point out that her shows are stand-alone productions in their own right.
"These are not shows about disability, nor is this disability on show."
The writer - Alex Bulmer
Alex Bulmer's credits include Channel 4's series Cast Offs, a drama series about six disabled characters on a fictional reality TV show.
Canadian-born Bulmer didn't start writing until she started to lose her sight in her mid-20s.
"The first thing I wrote, Life on a Scene, was a sound installation. Writing kept me going, it was my saviour. It gave me a voice," she says.
Bulmer has had a hand in two big projects commissioned for Unlimited.
Created by disabled-led theatre company Graeae in collaboration with Melbourne-based performing arts company Strange Fruit, Bulmer describes her work The Garden as "a play about how stories can renew hope in a person's life".
"It's like a pop-up story book," she adds.
Strange Fruit will use 4m (13ft) poles designed by the company to enable the performers to bow to almost impossible angles as they sway back and forth.
Bulmer acknowledges it was sometimes difficult to incorporate this device into her writing so that it didn't just become a gimmick.
"You have to create an opportunity for sway pole performers to use them effectively or they're just flagpoles.
"It's a big challenge - it's some kind of self-torture, but I really enjoyed it," she adds.
Bulmer also worked on the project Breathe, which heralded the start of the Olympic and Paralympic sailing events.
Taking place on the beach at Weymouth, it involved 64 disabled and non-disabled dancers, 275 torch bearers, naval ships, pyrotechnics and circus performers.
Despite the success of her recent work, Bulmer is unconvinced there are growing opportunities for disabled artists.
"I'm not sure it is improving," she says.
"The work being created is falling into the hands of the same people."
But she is hopeful things will change.
"The UK really does need to be proud of its opportunities for disabled people, it's leading the way. Unlimited is having an impact and should leave a very big legacy."
The artistic director - Mark Williams
Musician Mark Williams began working with a group of people with learning disabilities in the early 1980s, after becoming disillusioned with the mainstream industry and its "lack of contact with real people".
"I had no pre-conceptions and no real training, but I just found the group to be very enthusiastic," he says.
The group evolved into Heart n Soul, an arts organisation for people with learning disabilities, based in south London.
Williams, who is not disabled himself, says working with the artists is "an honour".
"There is a particular aesthetic around some of the learning disabled artists we work with, a fearlessness about being in the moment which is where the best art truly is."
In terms of progress, Williams says change has been much longer in coming for people with learning disabilities.
"There is this notion that people were completely hidden. In many ways the UK is really leading [the way], although sometimes it doesn't feel like that."
Heart n Soul is behind the Dean Rodney Singers project, commissioned for Unlimited.
"The Dean Rodney project is historic - we have a 23-year-old autistic artist leading the biggest Unlimited commission," says Williams.
"To see the environment has shifted enough to champion that artist is fantastic. Everyone's taken a big ambitious risk to realise Dean's vision."
The digital project, curated by Rodney, involves 72 disabled and non-disabled band members from seven different countries, creating 23 songs and videos, inspired by a dream Rodney had.
"We thought, 'This is crazy, but let's try to make it happen,'" says Williams.
"We've ended up with the most diverse bunch of people we've ever worked with," he adds.
"The disability angle hasn't really been the focus at all. Everyone's just bought into it."
Rodney, who first worked with Heart n Soul when they did a workshop at his school, "has an incredible imagination", according to Williams.
"It's like he's made a silhouette and band members have been asked to colour it in."
The installation, where visitors can mix tracks and create their own dance moves among other things, will be open every day throughout the Unlimited Festival.