Injured actress Kristin Chenoweth leaves The Good Wife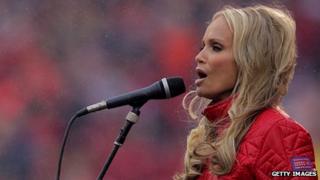 Actress Kristin Chenoweth has left The Good Wife to recover from injuries she sustained after being struck by a piece of lighting equipment on the set.
The 44-year-old, best known for The West Wing, Glee and stage hit Wicked, spent a short time in hospital after being hit on the head last month.
Chenoweth was put in a neck brace and taken away in an ambulance.
The actress, who played a reporter in the US TV drama, said in a statement she was leaving "with deep regret".
"It is with deep regret I inform everyone that due to my injuries I am unable to return to The Good Wife at this time," she said.
"Getting better slowly and thank you everyone for your concern."
At the time of the accident the CBS network said a gust of wind blew a lighting silk out of place, hitting Chenoweth.
Lighting silk is cloth used to soften or deflect artificial light or sunlight during shooting and is sometimes stretched over a lightweight metal or plastic frame.
Chenoweth joined hit legal drama The Good Wife in a recurring role for its fourth season.
She will be seen playing a political journalist who tries to uncover dirt on the lead character, Alicia Florrick, and her estranged husband who is running for governor.
Chenoweth is also a renowned Broadway actress, having originated the role of Glinda in hit musical Wicked. In 1999 she won a Tony award for You're a Good Man, Charlie Brown.
She also won a best supporting actress Emmy in 2009 for Pushing Daisies.