Jodie Foster to star in new TV mob drama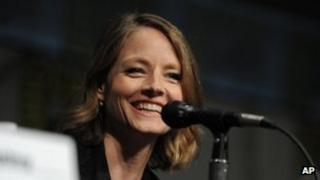 Oscar-winning actress Jodie Foster is to direct and produce a new female mob show for US cable network Showtime, according to the Hollywood Reporter.
Angie's Body has been dubbed a Sopranos-like drama, based around a shrewd and lethal woman who runs a family-based crime syndicate.
Further plot details are unknown but the script has been penned by Heroes and Jericho writer Rob Fresco.
The project marks Foster's first major venture into television directing.
The 49-year-old previously produced 1998 TV movie The Baby Dance, starring Stockard Channing.
Russ Krasnoff from Sony Pictures TV will executive produce alongside Fresco and Foster.
The Showtime project comes as the network ends the runs of Weeds and The Big C, two other series driven by female protagonists.
Foster, who won Oscars for The Accused and The Silence of the Lambs, has increasingly turned her attention towards directing in recent years.
While promoting her latest acting role in Neill Blomkamp's Elysium, she suggested she was considering a move into TV.
Her previous directorial credits include 1991 film Little Man Tate, in which she also acted, and 1995 comedy drama Home for the Holidays.
Last year she directed and acted alongside Mel Gibson in dark comedy The Beaver.