Ang Lee's Life of Pi to open New York film festival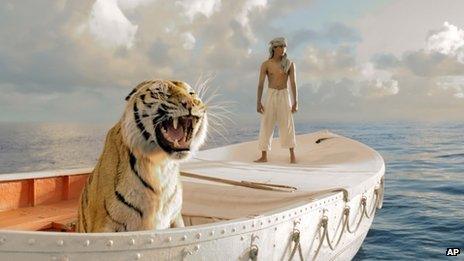 Ang Lee's Life of Pi has been selected as the opening night film at the New York Film Festival next month.
The adaptation of the acclaimed novel by Yann Martel will have its premiere on 28 September.
The 3D film, a fantasy about a boy marooned on a lifeboat with a Bengal tiger, is released in the UK on 21 December.
Taiwanese director Lee previously launched the festival in 1997 with his drama The Ice Storm.
Robert Altman, Pedro Almodovar and Francois Truffaut are the only other filmmakers to have filled the prestigious opening night slot on two occasions.
Lee's Oscar-winning epic Crouching Tiger, Hidden Dragon was the festival's closing night film in 2000.
Life of Pi tells of a young man who survives a disaster at sea with the seeming help of some unusual companions.
Richard Pena - programme director for the Film Society of Lincoln Center, the festival's organisers - called it "a perfect combination of technological innovation and a strong artistic vision".
The Oscar-winning director of Brokeback Mountain said he was honoured to have his film chosen to launch the festival.
"I am both delighted and honoured to be back at the New York Film Festival with Life of Pi," he said.
"I have the deepest respect for Richard Pena and his team and to be selected by them as the opening night film for the 50th anniversary is extremely gratifying."
The New York Film Festival concludes on 14 October with a screening of Robert Zemeckis's Flight, a thriller starring Denzel Washington.
Related Internet Links
The BBC is not responsible for the content of external sites.