Newsnight host Esler to front rock music awards gig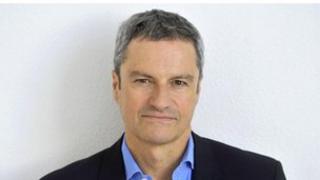 Newsnight's Gavin Esler has taken on an unlikely role as the host of a rock music awards show.
The 59-year-old BBC journalist and presenter will MC the Progressive Music Awards in London in September.
As Newsnight host, he has interviewed a range of world leaders including President Clinton and Tony Blair.
The inaugural awards - launched by Prog magazine - will honour music acts past and present.
Esler has long been a fan of prog rock and is a supporter of its roots in British music history.
"I grew up listening to bands ranging from King Crimson and Jethro Tull to Colosseum and Pink Floyd," he said.
"Prog rock is a great British invention and it's time we celebrated and rewarded not just past greatness but also the inventiveness of today's bands who are successors to this extraordinary British success story."
Along with presenting Newsnight, he hosts Dateline London on BBC World and presents on the BBC News Channel.
Among the bands nominated in the Prog Music Awards are Jethro Tull, Marillion, Pink Floyd and It Bites.
The editor of Prog magazine, Jerry Ewing, said the awards have been "a long time coming".
"When one considers the enormous amount of success that progressive artists have garnered over the past four decades, and perhaps more importantly the enjoyment they have given millions of fans over the years, it's only right we give something back to the musicians themselves.
"Given the buoyancy of the genre in recent years, we felt that the time was certainly right," he added.
The awards bash will be held Kew Gardens on 5 September 2012.