Russian director Pyotr Fomenko dies at 80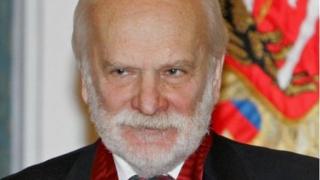 Renowned Russian stage director Pyotr Fomenko, who founded one of Moscow's most popular theatres, has died aged 80.
President Vladimir Putin called his death "a huge, irreplaceable loss for Russian culture and for the theatre that he created and devoted his life to serving".
Fomenko staged more than 60 plays in Russian and foreign theatres, over a career spanning 50 years.
The cause of his death is not known.
The celebrated director formed The Pyotr Fomenko Workshop Theatre in the 1990s, building a troupe from students at Moscow's theatre academy, where he also worked as a teacher.
His innovative approach to adapting Shakespeare, Chekhov and other classics proved popular and the company moved to its own quarters in 2000, with the city funding spacious new premises in 2008.
Fomenko also staged contemporary works by the likes of Andrei Voznesensky and Alexander Tvardovsky.
He began his career as an actor in 1958 before moving into directing in the 1960s, although some of his productions were banned by Soviet authorities for being politically provocative.
He moved to then-Soviet Georgia and later to Leningrad in the 1970s, eventually taking the helm of the Leningrad Comedy Theatre, where he lost his job in 1981 after falling out with authorities.
Fomenko was highly regarded by his colleagues, who admired his vision and wit, and thought of him as a pioneer who took Russian theatre to a new level.
He said his job sometimes gave him "moments of pure happiness when tears would well up in my eyes".
The director also stated that he saw failure as a challenge and valued it more than success.
"A failure is sometimes more useful and more important both as a survival test and a source of feeling for drama," he said in a recent documentary.
Fomenko died while working on a new production of national poet Alexander Pushkin's play Boris Godunov.