Bob Hoskins to retire after Parkinson's diagnosis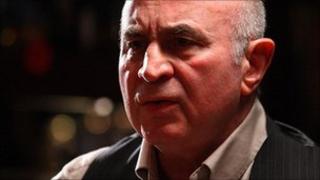 Bob Hoskins is to retire from acting after being diagnosed with Parkinson's disease.
The 69-year-old star of Who Framed Roger Rabbit has enjoyed a career spanning four decades.
In a statement on Wednesday, his agent said he was withdrawing from acting after a "wonderful career" and would be spending time with his family.
Hoskins achieved a Golden Globe nomination for his role as a private detective opposite the animated bunny.
"He wishes to thank all the great and brilliant people he has worked with over the years, and all of his fans who have supported him during a wonderful career," said the statement.
"Bob is now looking forward to his retirement with his family, and would greatly appreciate that his privacy be respected at this time."
Hoskins, from Bury St Edmunds in Suffolk, began acting in the late 1960s, but it wasn't until the latter half of the 1970s that he started landing regular television roles.
His breakthrough came in 1980, when he played Harold Shand in the British gangster film The Long Good Friday, alongside Helen Mirren.
In 1986, his portrayal of George in Neil Jordan's film Mona Lisa, about a high-class call girl, won him numerous awards including a Globe for best actor, a Bafta and an Academy Award nomination.
Hoskins was again nominated for best supporting actor at the Globes for his role in Mrs Henderson Presents, a 2005 British comedy directed by Stephen Frears, starring Dame Judi Dench.
More recently, his role as a publican in Jimmy McGovern's drama serial, The Street, earned him the title of best actor at the 2010 International Emmys.
The series, broadcast on the BBC between 2007 and 2009, followed the lives of various residents of an unnamed street in Manchester.
Other notable appearances included Smee in Steven Spielberg's 1991 take on Peter Pan, Hook. He played the same character in Neverland in 2011 which also starred Anna Friel, Rhys Ifans and the voice of Keira Knightley as Tinker Bell.
The gruff-voiced actor also appeared alongside Cher in Mermaids, and played Russian leader Nikita Khrushchev in Jean-Jacques Annaud's Enemy At The Gates, set during the Battle of Stalingrad in World War II.
His last film appearance was in this year's Snow White And The Huntsman, in which he played one of the eight dwarves opposite Kristen Stewart.
Daiga Heisters, head of professional engagement and education at Parkinson's UK, said: "We are sorry to learn that Bob Hoskins has been diagnosed with Parkinson's.
"He is joining 127,000 people in the UK currently living with the condition. Parkinson's is a progressive condition that affects everybody differently, and can change on a daily, or even hourly, basis.
"Many people can live a full and active life with their diagnosis of Parkinson's. However, it does affect some people quickly and severely.
"The important thing is that there is plenty of support available for those living with the condition."