Foul-mouthed bear Ted tops film chart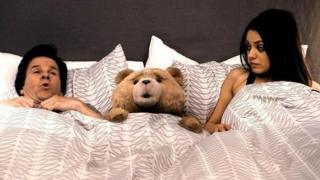 Comedy film Ted, about a talking teddy bear, has gone straight to the top of the UK and Ireland box office chart in its opening weekend.
Starring Mark Wahlberg as the owner of the foul-mouthed bear, the film took £9.3 million, more than double its nearest rival, The Dark Knight Rises.
The Batman movie, which had been number one for two weeks, dropped to second place, with takings of £4.3m.
Nonetheless, the film has topped the £40m mark in just 17 days.
The success of Ted, which was written by Family Guy creator Seth McFarlane, is relatively unusual.
Adult-rated comedies traditionally open with much lower box office figures: The Hangover took £3.19m in 2009, while Bridesmaids made £3.44m in its first week last year.
Ted's strong performance is more in line with comedies based on existing franchises, most notable The Inbetweeners Movie, which opened with £13.22m in 2011.
Surprise entries
With the summer holidays in full swing, childrens' films accounted for the bulk of this week's top 10.
Diary Of A Wimpy Kid: Dog Days, was the week's second-highest new entry at number three.
The third film in the hit series, it follows student Greg Heffley (Zachary Gordon) during a school break when, bereft of plans, he embarks on an ill-fated camping trip.
It made a respectable £1.5 million across 463 screens.
On a screen-by-screen basis, however, Disney Pixar's latest animation, Brave, out-performed it.
The Scottish-set tale had preview screenings at 143 venues, and made £820,084 - or £5,735 per screen.
It is likely to rise from its current chart position (number six) when it goes on general release from Monday, 13 August.
Other children's films in the top 10 included animated comedies Ice Age: Continental Drift and Dr Seuss' The Lorax, at numbers four and five respectively.
Meanwhile, Mirror Mirror, a retelling of the Snow White story, made a surprise re-entry in the top 10, four months after it was first released.
The movie, starring Lily Collins as the fairytale princess, took ninth place, even though it is already available on DVD.
Documentary Searching For Sugar Man, about obscure Mexican-American musician Rodriguez, took tenth place, making £42,416 from just 43 screens.