Hairspray writer Mark O'Donnell dies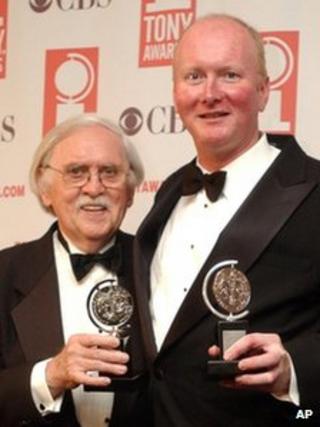 Tony Award-winning writer Mark O'Donnell, who co-wrote the musicals Hairspray and Cry-Baby, has died at the age of 58.
O'Donnell's agent, Jack Tantleff, said the writer collapsed on Monday in the reception of his apartment block in Manhattan, New York.
O'Donnell and co-writer Thomas Meehan won a 2003 Tony award for their musical adaptation of cult movie Hairspray.
The pair earned further Tony nominations in 2008 for Cry-Baby.
Both works were based on films by director John Waters.
The Hairspray story is about an overweight white teenager whose ambition is to dance on The Corny Collins Show, Baltimore's version of American Bandstand, but who campaigns against the show's policy of racial segregation.
"The structure I had in mind was: Girl does mash potato, girl charms Baltimore, girl integrates nation," O'Donnell told The Associated Press news agency in 2002.
His other plays include Vertigo Park, The Nice and the Nasty and That's It, Folks!
He also wrote two novels, Getting Over Homer and Let Nothing You Dismay.
A post-mortem is due to take place on Tuesday.
Actress Martha Plimpton paid tribute to O'Donnell on Twitter.
The Raising Hope star wrote: "So terribly sad to lose the lovely, dear, and kind Mark O'Donnell. Funny, sweet. I'll miss seeing him round the neighbourhood. Very, very sad."
Fellow writer Scott Prendergast, who wrote comedy movie Kabluey, tweeted: "Very saddened to hear about Mark O'Donnell. He got me my first professional writing job on MTV's Celebrity Deathmatch. Thanks Mark. RIP."
"He was a huge talent, and a warm, witty and wonderful man who marched to his own drummer," added his agent.
O'Donnell was born in Cleveland, Ohio, one of a family of 10.
He was the identical twin of TV writer, Steve O'Donnell.
Steve O'Donnell was head writer on The David Letterman show and has been the head writer on the Jimmy Kimmel Live! show since it began in 2003.