Lamb of God singer Randy Blythe vows to clear name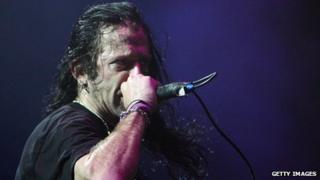 Rock singer Randy Blythe, who fronts US band Lamb of God, has vowed to "fight to clear [his] good name" after being released on bail from a Prague jail.
Blythe was in prison for a month while police investigated his role in the death of a fan who fell off the stage at a gig in the Czech capital in 2010.
On returning to the US, he said: "If it is deemed necessary for me to do so, I WILL return to Prague to stand trial."
He said it would be "irresponsible and immoral" not to return for any trial.
In a statement he said: "While I maintain my innocence 100%, and will do so steadfastly, I will NOT hide in the United States, safe from extradition and possible prosecution."
He added that he sympathised with the family of the fan, to whom he referred as Daniel N, who had suffered "the indescribably tragic loss of their child".
"I am a man," he continued. "I was raised to face my problems head on, not run from them like a petulant child.
"I feel VERY STRONGLY that as an adult, it would be both irresponsible and immoral for me not to return to Prague if I am summoned."
Blythe, 41, also thanked his supporters after being released on bail of eight million Czech koruna (£254,000).
The prosecution had requested that he be banned from leaving the country.
Blythe was arrested when the band flew into Prague to play a gig, apparently unaware that there was an outstanding warrant for the singer's arrest.
He was accused of pushing the teenage fan off the stage at the concert in 2010. The fan hit his head when he fell to the concrete floor and died of his injuries 14 days later.
Virginia-based Lamb of God, who received Grammy nominations in 2007 and 2011, played at the Download festival at Donington Park in the UK in June.