Roger Mosey to be acting director of BBC Vision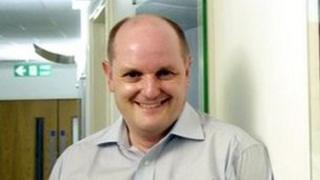 The BBC has appointed a new acting head of Vision to replace George Entwistle, its newly appointed director general.
Roger Mosey, currently the BBC's director of London 2012, will take on his new role on 20 August.
Dave Gordon will replace Mr Mosey as director of London 2012 for the duration of the Paralympics.
George Entwistle will take up his position as the BBC's new director general on 17 September.
BBC Vision is responsible for the commissioning, producing, scheduling and broadcasting of all content on the BBC's television channels.
Announcing the appointments on Monday, outgoing director general Mark Thompson said Mr Entwistle would step down later this month to concentrate on the DG handover.
He said the process of making a permanent appointment as director of BBC Vision would begin later in the autumn.
Shortly after the announcement, Roger Mosey tweeted that he was "honoured to have been asked to be acting director of BBC television this autumn".
As director of London 2012, a role he took up in April 2009, he has been responsible for planning the BBC's coverage of the Olympics, the Paralympics and the Cultural Olympiad.
Mr Mosey's previous positions include editor of Today, controller of 5 Live, head of BBC television news and director of sport.
Dave Gordon is currently the head of major events at BBC Sport.