Philadelphia Orchestra safe from bankruptcy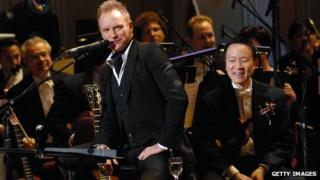 The Philadelphia Orchestra, one of America's "Big Five", has officially emerged from bankruptcy.
The arts community was stunned when it became the first major US orchestra to file for protective Chapter 11 bankruptcy in April 2011.
A reorganisation plan, including the loss of ten musicians and a 15% pay cut for the remaining 95, was approved by a US Bankruptcy Court judge in June.
The orchestra addressed debts, claims and liabilities of around $100m (£64m).
A statement from the Philadelphia Orchestra Association, and its subsidiary, the Academy of Music, said they had reached a settlement of $5.49m (£3.5m).
"We are deeply grateful to all who have championed and supported our Orchestra during this difficult yet necessary process," said CEO and association president Allison Vulgamore.
It will pay $4.25m (£2.7m) according to an agreed schedule, with the rest distributed according to a multi-year plan.
Together with reducing pay and cutting musicians the symphony orchestra has also received a rent break from the Kimmel Center and will make changes to its pension plans.
The Philadelphia Orchestra is not the only orchestra in the US to have suffered recent money problems, and they have become far more reliant on individual and business philanthropy than most European equivalents.
The Syracuse Symphony Orchestra, The Honolulu Symphony and New Mexico Symphony are just some of those to have closed.
They also face huge challenges attracting a younger audience, according to Jesse Rosen who runs the League of American Orchestras.
"Live classical music is a product delivered at a fixed time and place which you have to show up at… And which you had no part in creating," he explained.
"There's now a whole generation which is used to curating its own content - and to getting everything on demand on a laptop or iPad. Old-style classical concerts don't fit that model."
Ms Vulgamore said the Philadelphia Orchestra "remains among the best in the world" and now that its financial difficulties had been addressed they can turn their attention back to what they are passionate about.
Yannick Nezet-Seguin will join the 111-year old orchestra as music director in October.
"We embrace this new era - and our audiences - with gratitude and dedication," added Ms Vulgamore.