Javier Bardem's blond Bond villain unveiled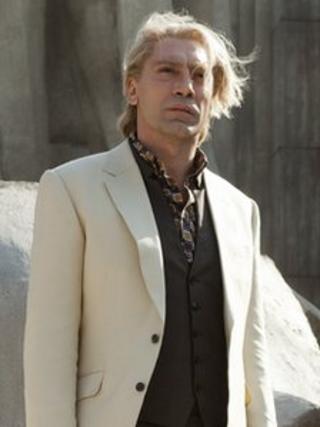 A new trailer for the latest James Bond film Skyfall has given fans their first glimpse of Oscar-winning actor Javier Bardem's blond villain in action.
Bardem's character, named Silva, is seen confronting a manacled Bond, played by Daniel Craig, and is later shown disguised as a British policeman.
The trailer features actor Ben Whishaw as "The New Q" and explosive action in various London locales.
It also shows Bond being "killed" in action and M typing up his obituary.
Played by Dame Judi Dench, 007's boss is then seen being chastised by Ralph Fiennes' character Gareth Mallory for losing a disc drive containing details of undercover British agents.
Subsequent scenes depict an explosion at MI6's Thameside HQ and a Tube train plummeting into an underground vault.
The trailer reveals previously unknown plot points, one of which appears to have been drawn from Ian Fleming's novel You Only Live Twice.
The 1964 book concludes with an obituary for Bond written by M after the secret agent is believed to have been killed during a mission in Japan.
The latest trailer comes shortly after Craig's cameo appearance during the Olympic Opening Ceremony in a short film that showed Bond escorting the Queen to the Olympic Stadium.
Audiences in the US were treated to a teaser of the new footage during NBC's telecast of the London 2012 launch.
Other scenes unveiled on Tuesday include one showing British actress Naomie Harris, in her role as field agent Eve, "shooting" Bond off the roof of a moving train in Turkey.
Skyfall, to be released in the UK on 26 October, marks Craig's third big-screen appearance as Fleming's legendary spy.
The 44-year-old was previously seen in the role in 2006's Casino Royale and Quantum of Solace in 2008.
Spanish actor Bardem won the best supporting actor Oscar in 2008 for his villainous role in No Country for Old Men.
The 43-year-old, who is married to fellow Spaniard Penelope Cruz, was also Oscar-nominated in 2001 and 2011.