Singer Sheryl Crow granted restraining order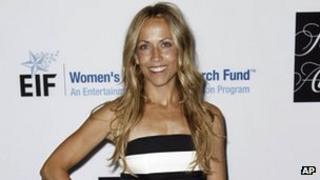 Singer Sheryl Crow has been granted a temporary restraining order against a man accused of threatening to shoot her.
The order means Phillip Gordon Sparks must stay 90 metres away from Crow and must not contact her, her family or anyone who works with her.
A hearing on a three-year protective order will take place on 14 August in Santa Monica, California.
Crow, 50, wrote in a sworn statement that she was fearful of Sparks, 45.
She said he had claimed angrily online that she had stolen money from him and broken into his house.
She also stated that Sparks recently went to the offices of an entertainment union and told a worker he was going to "just shoot" her.
A worker at the Screen Actors Guild-American Federation of Television and Radio Artists wrote in a declaration that Sparks made the threat against Crow when she spoke to him on 16 July.
The same worker said Sparks also threatened to shoot film executive Harvey Weinstein because he believed they were filming him and had stolen millions of dollars from him.
Crow was recently diagnosed with a benign brain tumour.
The singer-songwirter said she doesn't need surgery but will continue to have scans to monitor the growth.
Crow has previously had breast cancer, and received the all-clear in 2006 after undergoing radiation therapy.
Her biggest chart hits include All I Wanna Do, Everyday is a Winding Road, A Change Would Do You Good and the James Bond theme Tomorrow Never Dies.