Arts Council award £43m funding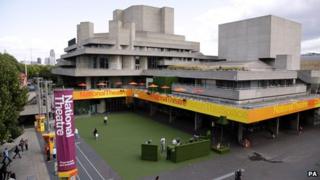 The National Theatre, Royal Opera House and Chichester Festival Theatre are among five organisations to win a share of £43.8m from Arts Council England.
The funding will help restore and upgrade venues, with London's National Theatre receiving the most at £17.5m.
Chichester Festival Theatre was awarded £12m and the Royal Opera House £10m from the Arts Council's first capital investment scheme in nine years.
The Southbank Centre and High House Production Park were also successful.
The National Theatre's director, Nicholas Hytner, said it "warmly welcomed" the endorsement of its plans for "a dramatic opening-up and renewal of Denys Lasdun's 1970s building".
The £17.5m makes up 25% of the London venue's £70m target for its Future project, £40m of which has already been raised from "trusts, individuals and the National's own earnings from War Horse".
It hopes to make the theatre more visible and accessible with a new main entrance and more opportunities for public participation, such as dedicated learning spaces and a backstage viewing gallery.
Chichester Festival Theatre said the £12m it has received in Arts Council funding means it has now raised £20m of the £22m needed for its RENEW campaign.
It had already secured local government funding and an "overwhelming" £8m from local businesses, trusts and individuals.
The Grade II listed Festival Theatre, named regional theatre of the year by The Stage in January, celebrates its 50th anniversary this year with a season of special events.
Several of its recent big productions have transferred to the West End including Singin' in the Rain, Sweeney Todd and Yes, Prime Minister and its co-production of Kiss Me, Kate will transfer to The Old Vic in November.
The theatre's executive director, Alan Finch, said: "The Festival Theatre is now operating on a scale way beyond what was envisaged when it was built and opened in 1962".
Planned improvements include a new extension and increased seating capacity.
Tony Hall, chief executive of The Royal Opera House said 13 years after the venue was last redeveloped things are "beginning to go wrong, break down and wear out".
"This money will not be spent on chandeliers and red carpets," said Hall. "But on things that make the building function properly and to full capacity in the most energy efficient way."
He added that being able to use a capital fund for this "vital stuff" meant it could continue to invest in both art and education.
The Southbank Centre's £3.3m development grant will go towards refurbishing its Queen Elizabeth Hall and Hayward Gallery complex to bring them up to the standard of the Royal Festival Hall.
High House Production Park in Purfleet, Essex, which provides art facilities for those working backstage, was awarded £1m to develop 43 new affordable artists' studios.
Last year hundreds of arts groups saw their applications for Arts Council grants turned down due to cuts in government funding.
More than 200 organisations that had previously received regular funding missed out after Arts Council England had its budget cut by £100m in 2010's October spending review.
In March this year, research by The Stage found that more than one in 10 arts companies who had lost all of their core Arts Council funding had shut down or were closing.