Lady Gaga to star in Robert Rodriguez film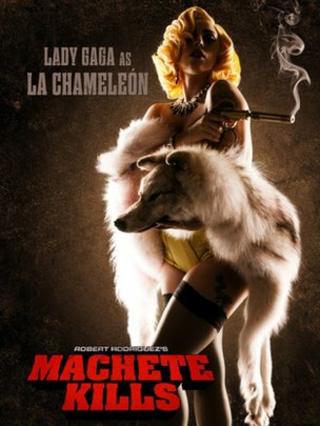 Sin City director, Robert Rodriguez has announced Lady Gaga will star as La Chameleon in his next action film, Machete Kills.
He confirmed the news on Twitter , by posting a film poster showing Gaga in character as La Chameleon.
"I just finished working with @LadyGaga on @MacheteKills... Holy Smokes. Blown away!" Rodriguez tweeted.
It will be the pop singer's first acting role, although she once appeared as an extra in TV hit The Sopranos.
She has also had cameo roles in The Simpsons and Men In Black 3, playing herself.
Little is known about Gaga's character in Machete Kills, but the publicity image shows her holding a smoking gun, while draped in the skin of what appears to be an Alaskan wolf.
The singer confirmed the role to her 27.5 million twitter followers.
"I will be making my debut as an actress ln the amazing MACHETE KILLS BY @RODRIGUEZ IM SO EXCITED!!! AH! Filming was insane," the popstar said .
Machete Kills follows on from Rodriguez's 2010 film, Machete, which starred Danny Trejo as former Mexican federale Machete Cortez, who sets out on a mission of vengeance against his former boss who tried to have him killed.
It was based on a spoof trailer Rodriguez created for his Grindhouse project with Quentin Tarantino.
Despite poor reviews, it made $44m (£28m) worldwide - around four times its budget.
Last month, Rodriguez made the surprise announcement that Charlie Sheen would star as the US President in the sequel.
He joins Mel Gibson, Sofia Vergara, Jessica Alba, Vanessa Hudgens, and Cuba Gooding Jr, who have already been announced for the cast.
Machete Kills is due for release in 2013.