Lady Gaga in $10m legal dispute with Bratz doll maker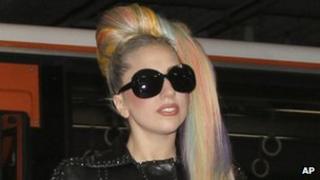 Lady Gaga and her management company are being sued for $10m (£6.45m) by the makers of Bratz dolls.
MGA Entertainment filed legal papers in New York saying the star caused "deliberate" delays to the release of a doll based on her image.
It claimed the doll was to due to be in shops for Christmas, but the pop star wanted the release held back to tie in with a new album, scheduled for 2013.
The merchandising company working with Gaga called the claims "meritless".
According to the breach of contract complaint lodged with a court in New York, the singer acted in "bad faith" by withholding final approval for the doll.
MGA also claimed that Gaga and her management wanted to concentrate on marketing a perfume instead of their figurines.
The line of dolls had been due to make $28m in revenue for the Christmas 2012 retail season, it estimated.
"Irreparable damage"
Agreements were in place with at least six distributors, with orders coming from at least 10 countries, according to the complaint.
MGA claimed it had suffered "irreparable" damage as a result of the "unreasonable delays" caused by last-minute requests from the multi-award winning star.
Peter Lofumento, a spokesman for Bravado International Group, a merchandising arm of Universal Music, said: "We will vigorously defend ourselves in court."
A spokeswoman for Lady Gaga told Bloomberg news that the singer had not seen the complaint and had no comment.
"This is a dispute between Universal Music Group's merchandising company and MGA," Amanda Silverman stated.
"There was no legitimate reason for dragging Lady Gaga into that dispute. Lady Gaga will vigorously defend MGA's ill-conceived lawsuit and is confident that she will prevail," she added.
In 2011, MGA Entertainment won $310m in damages from toy maker Mattel in a case about who owned the rights of the Bratz line of dolls.
Mattel, which makes the rival Barbie line, has appealed that court ruling.