Olympics: Media's biggest ever event?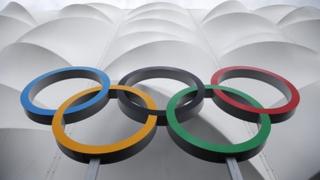 Could the London Olympics be the "biggest media event in history", as some have claimed?
It's perfectly possible, depending how you measure it.
London 2012 already encompasses more journalists, camera crews and other media people, more hours of programming and more digital technology and cable than any previous international event.
Whether it attracts more viewers remains to be seen.
Two thirds of the world's population watched the Beijing Games, according to the global ratings company Nielsen.
Four years ago it announced : "It's official: the 2008 Beijing Olympic Games attracted the largest global TV audience ever."
It reported: "4.7 billion viewers - or 70% of the world's population - tuned in to watch the Games. In comparison, 3.9 billion watched the 2004 Athens Games, while 3.6 billion followed the 2000 Sydney Games on TV."
If London 2012 doesn't attract a larger TV audience, it won't be the fault of the US network NBC, which has broadcast nearly all the summer Olympics since 1964.
Never knowingly undersold, NBC is banging the drum in a series of drama-laden commercials.
One proclaims over a stirring music track: "This summer, the greatest athletes come together in London. Experience their remarkable stories as the entire world watches. The London Olympics on the networks of NBC."
Another is heralded by a starting pistol: "Every four years, for 17 glorious days, one event transforms us. It unites the entire world to share one dream - that we are capable of the impossible..."
NBC is in London in force, flying in a team of 2,800 broadcasters. They are "an army" which "dwarfs the BBC's 765-person London 2012 crew" London's Evening Standard says .
It's all part of the biggest media operation the Games has seen. More than 20,000 journalists, camera crew and other media people have been accredited in London, according to the organisers Locog.
The communications regulator Ofcom has called it the "biggest media event in history" , and says it has prompted a record demand for wireless spectrum to provide close-up pictures and high-quality sound for an expected global audience of over 4 billion.
Many in the UK will be watching on mobile devices and computers as well as TV sets, further increasing the demand for spectrum.
"We found that around a fifth of adults say they will follow coverage on many different devices online, whether that's via a tablet, a mobile phone or online - and among the younger age groups this rises to around a third," Ofcom's head of media research, Jane Rumble, told the BBC.
For the first time, viewers in the UK and the US can watch every event live, on extra TV channels or streamed online.
The BBC is making 24 HD-quality Olympic streams available online and to cable and satellite providers, delivering around 2,500 hours of live sport coverage during the Games.
BBC presenter Gary Lineker is helping viewers find their way round it all through a new Interactive Video Player.
For NBC in the US, this is a change of strategy.
The Wall Street Journal reports : "Executives have decided to do away with the old formula of keeping big events under wraps until its prime-time evening broadcast.
"Instead, every Olympic event will be available live online for cable and satellite subscribers, who will be able to select events from a menu at nbcolympics.com."
NBC, along with its cable channels such as CNBC and its website, will broadcast 5,535 hours of the London games.
"The network needs as many Olympic viewers as it can muster. Buying the broadcast rights to this year's games, along with the 2010 winter games, cost $2bn (£1.29bn)," The Journal adds.
Like the BBC, it's hoping London 2012 really does become the biggest media event in history - as measured by the number of people watching it, rather than simply covering it.