How to write a West End flop
By Ian Youngs
Entertainment reporter, BBC News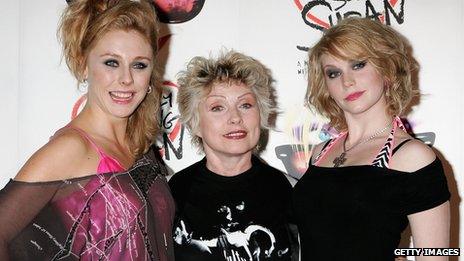 Five years ago, a West End musical married the story of Madonna's 1985 film Desperately Seeking Susan with the music of Blondie. It flopped - but its creator has now turned the debacle into a one-man comedy show.
Newspaper headline writers had a field day after the press night for Desperately Seeking Susan at London's Novello Theatre.
"Desperately seeking the excitement between songs" (Evening Standard); "Desperate for the curtain" (Sunday Times); "Desperately dull Susan" (Mail on Sunday); "Susan has me desperately seeking the exit" (Daily Telegraph).
The reviews were scathing and critics and readers like little more than bringing those with ill-conceived ideas and inflated egos down a peg or two.
The musical lost a reported £3.5m and lasted just four weeks, during which an average of 200 people saw each performance at the 1,100-capacity theatre.
One of those headlines has been imprinted on the brain of the show's creator Peter Michael Marino ever since, and Desperately Seeking The Exit has become the title for a show in which he sends up his misadventure while ruefully picking over the ruins.
"It's been five years since the show crashed and burned and changed my entire life," Marino says.
"I think there's something inherently funny in a regular guy trying to achieve something without having the tools or the ability and failing. That's often pretty funny for other people."
While most people would have erased such an episode from their CVs, Marino has turned it into a one-man spin-off, which receives its UK premiere in Manchester on Monday before moving to the Edinburgh Fringe.
It may be a one-hour act of tongue-in-cheek self-flagellation, but it is also a chance for Marino to give his side of the story.
The idea for the original musical was hatched when Marino, an actor and writer, was "sitting around with a buddy getting stoned" with Blondie on the stereo, he says.
He had always loved Desperately Seeking Susan, a screwball comedy that starred Madonna and Rosanna Arquette.
Realising that the film and Blondie hailed from roughly the same era, that the film was set in the lower east side of Manhattan, where Blondie were discovered, and that "Susan" was from New Jersey, just like Blondie singer Debbie Harry, Marino put the two together.
"It just made perfect sense," he says. After three months writing a script, the response to initial read-throughs was "fantastic from everybody," Marino says.
One major West End producer even warned him: "This is going to be a big hit, I hope you're ready."
Marino's show was to be called Desperate! and he says he used the movie as "an inspiration more than a blueprint".
The way he tells it, the idea was sound and the egos were under control but the director, choreographer, designer and Marino himself had incompatible artistic visions.
He adds: "We had British producers and American producers, and there was some conflict in how to sell the show. Before I knew it, it was just Desperately Seeking Susan again.
"It was not Desperate! It wasn't really this original script so much as this almost word-for-word adaptation of the film.
"When you transfer something to the stage you have to raise the stakes. And I think the problem was the show was just played a little bit too safe.
"The film, to me, is like a rainy Sunday afternoon thing and what I wanted to create was a hot, steamy Saturday night thing. And we kinda just wound up getting a Sunday morning hangover thing."
I confess to him that I did not see the musical. "No-one saw it!" he laughs. He is joking about the debacle in his new show, but he was also clearly hurt by the experience.
"It was terrible to read the reviews," Marino says.
"It was a star-studded opening night and a fantastic party. Then the next morning you're completely hung over, open up your computer and see headlines like 'Desperately Seeking The Exit', 'Desperately Avoiding Closure', 'Desperately Seeking Success'.
"It's terrible. It's terrible. Especially since 25 of my family and friends flew over to see the show."
Does he now accept that the show was as bad as the critics said it was? "I would say that the production was almost as unthrilling as many of the reviews said," he concedes.
After the press night, Marino went into "this horrible depression, which lasted a year", he says.
The clouds began to lift after Desperately Seeking Susan was staged in Tokyo in 2009 and Marino realised that, given the right creative climate, it could work.
After reading back through the blog he wrote while making the musical and endlessly recounting anecdotes to friends, he realised he had a story to tell.
"I hope that this show gives other artists, or anybody who has any sort of dream or goal, the courage to know that you can do it," he says. "If it fails, you can get back up again and you can turn your rotten tomatoes into bloody marys."
Desperately Seeking The Exit is at the Taurus Bar in Manchester on Monday and Tuesday. It is at Edinburgh City Football Club from Thursday to 27 August.
Related Internet Links
The BBC is not responsible for the content of external sites.