Sir Elton John and Pnau top album chart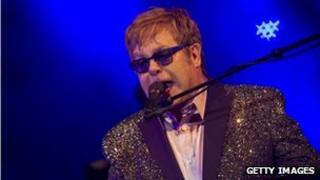 Sir Elton John has returned to the UK album chart with his first number one in more than 20 years.
Good Morning To The Night went straight to the top spot, replacing singer-songwriter Newton Faulkner, whose album Write It On Your Skin fell 10 places.
In the singles chart, Florence and the Machine held on to number one for a second week, with Spectrum (Say My Name).
Florence Welch beat Maroon 5, who held firm at number two with Payphone.
Good Morning To The Night is Sir Elton's collaboration with Australian electro-duo Pnau and sees the veteran's early 1970s catalogue refashioned into eight new songs.
In the first few days of the album's release, Amazon was selling an MP3 version for a special price of £3.99. The CD is now retailing in many outlets for £6.
Good Morning To The Night is the British star's first number one album since November 1990, when he released The Very Best of Elton John, a greatest hits package. His last original album to top the charts was Sleeping With The Past in June that year.
Collaborations have brought Sir Elton success in the past. He had a surprise number one single in 2005 with the Tupac Shakur song Ghetto Gospel, which sampled Sir Elton's 1971 hit Indian Sunset.
In this week's singles chart, Florence and the Machine held on to number one for a second week - a week after they had to pull out of two European festivals because singer Florence Welch had lost her voice.
According to the Official Charts Company, Chris Brown's Don't Wake Me Up moved up one place to three and Black Eyed Peas frontman Will.I.Am dropped one place to number four with This Is Love.
There were only two new albums in this week's top 20 - Elton John and Nas, who reached number eight with Life is Good.
R&B singer Frank Ocean's Channel Orange slipped one place to number three, replaced by Maroon Five, who moved up a place to number two with Overexposed.