Batman Paris premiere cancelled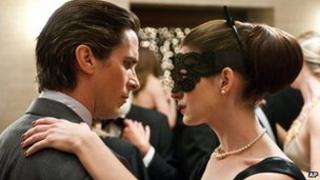 The Paris premiere of the new Batman film, The Dark Knight Rises, has been cancelled following a shooting at a midnight screening in the US.
At least 12 people have been killed and dozens injured in the attack in Denver, Colorado on Thursday night.
Witnesses said a man wearing a gas mask opened fire as movie-goers watched the film.
In a statement film studio Warner Bros. said they were "deeply saddened to learn about this shocking incident".
"We extend our sincere sympathies to the families and loved ones of the victims at this tragic time," the statement said.
As well as the cancellation of the red carpet premiere on the Champs-Elysees, the Hollywood Reporter reported that media interviews with the director, Christoper Nolan, and the film's cast have also been cancelled.
The Paris premiere was due to take place on Friday.
Meanwhile, according to reports, Warner Bros. has also pulled a trailer for its upcoming film Gangster Squad, a 1940s-set thriller starring Sean Penn and Ryan Gosling.
Movie website Deadline said the trailer, which was being shown during the previews of The Dark Knight Rises, featured a scene of gunmen going into a cinema and shooting patrons as they watch a film.