Jarvis Cocker lends Hirst art to Museums Sheffield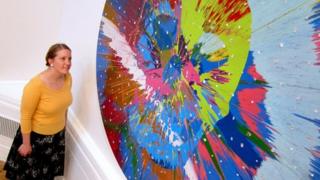 Pulp frontman Jarvis Cocker has loaned a Damien Hirst painting to a gallery in his home city of Sheffield, to show his support after its funding was slashed.
The work has been hung in the main Graves art gallery which, as part of the Museums Sheffield group, has lost regular Arts Council England funding.
The group is cutting 45 out of 107 jobs after losing out on £1.4m a year.
The Britpop singer wanted "to express his support by lending us the painting he'd been given," the gallery said.
Titled Beautiful Morana Dysgeusia Painting for Jarvis (with Diamonds), the spin painting was created last year and is covered in synthetic diamonds.
It will be on display at the Graves for three years.
"Our efforts to make sure Sheffield gets a fair share of national funding continue," said communications manager Eric Hildrew.
"In the meantime, we think it's great that fans of the city are taking an interest - thanks Jarvis."
Museums Sheffield, which also runs three other venues, said its budget would drop by a "crushing" 30% after its application for £4.2m funding from Arts Council England over three years was refused in January.
The local council has also cut its funding for the attractions by 12%.
The budgets for the Arts Council and local authorities have themselves been cut by central government.
Arts Council England said it "recognises and values the important work of Museums Sheffield" but that it had to make "difficult choices" between applications from the region.