Hefner meets with The Queen screenwriter about biopic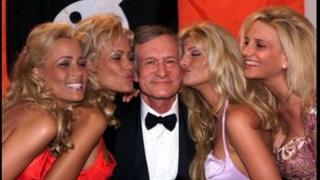 Playboy founder Hugh Hefner has indicated that the man behind The Queen will script a film about his life.
According to 86-year-old Hefner, he met with Peter Morgan earlier this week.
In a message posted on Twitter , he said: "I had a good meeting today with screenwriter Peter Morgan discussing a film about my life."
It has been reported that Jerry Weintraub, who produced and appeared in Ocean's Eleven and its sequels, will produce the biopic.
News of the Hefner biopic comes more than 15 years after a film about rival adult entertainment magnate Larry Flynt received two Oscar nominations.
It is in development as the same time as Steve Coogan and Michael Winterbottom make a film about the life of British porn baron Paul Raymond.
Morgan received Oscar nominations for The Queen, starring Helen Mirren, and 2008's Frost/Nixon, which focused on an infamous TV interview between former President Richard Nixon and British journalist David Frost.
His other works include The Last King Of Scotland and The Deal, a TV drama about Gordon Brown and Tony Blair's complex relationship.
Currently, he is working on the script for a Freddie Mercury biopic starring Sacha Baron Cohen.
Hefner, who is known for his decadent lifestyle, established Playboy magazine in 1953 and continues to act as the Chief Creative Officer of Playboy Enterprises.
He is known for his lavish parties at the notorious Playboy Mansion, where he still resides, and for his numerous girlfriends.
The forthcoming biopic will be distributed by Warner Brothers.