Madonna scraps Australian tour plans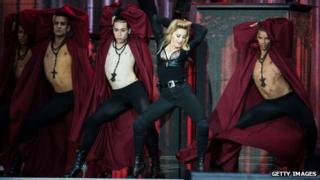 Madonna has snubbed Australian fans by cancelling her upcoming tour dates, her first in the country for 20 years.
The singer's concert promoter, Live Nation, confirmed the cancellation overnight on Tuesday, but did not give any reason.
Madonna was due to confirm summer dates earlier this month but delayed the announcement until after the Olympics.
The pop star also bypassed Australia on her last two tours, citing logistics and financial reasons for pulling out.
Reports in Australian media suggested that stadiums had already been booked in Sydney and Melbourne for next year's leg of the MDNA tour.
There was speculation that the tour became unviable due to high ticket costs and a crowded concert market.
"Madonna's tour will end in South America in December as planned. That's all we can say," a spokesperson said.
Anger
The cancellation came as a surprise to many fans, after Madonna's manager, Guy Oseary, appeared to commit to an Australian tour.
''Madonna really needs to go to Australia," he said in a question and answer session with fans shortly after the Sticky and Sweet tour ended in 2009.
"Unfortunately it didn't work out for this tour. She appreciates her Aussie fans coming to many of the shows.
"We are long overdue for a trip Down Under and apologise for that. It will happen.''
Upon hearing of the latest cancellation, Australian fans voiced their anger online.
"I guess Madonna is too busy promoting her non-charting singles in major music markets like Romania and Bulgaria to tour Australia," said Mike Wass, from Sydney, on Twitter.
Aaron Moss wrote , "Madonna fans Australia-wide, myself included, are sad beyond belief. She hasn't been here in my lifetime."
Music journalist Cameron Adams added : "Madonna Australian 2013 tour is officially cancelled. No reason given. She's just not coming. Again."
The 53-year-old star is currently touring Europe, where some of her shows have provoked controversy.
She flashed a nipple to a largely Islamic audience in Istanbul and superimposed an image of the swastika onto a picture of far-right leader Marine Le Pen in Paris.
In Hyde Park in London on Tuesday, Madonna opened the show with a performance of Girl Gone Wild, before playing MDNA.
She also performed classic tracks including Papa Don't Preach, Express Yourself and Like a Prayer.
Stars attending the show included Kylie Minogue, George Michael and Stella McCartney.