Finding Nemo: Director signs up for sequel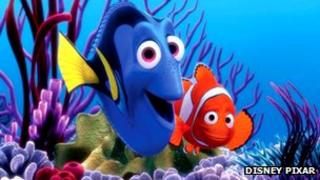 Director Andrew Stanton has confirmed he will return to direct a sequel to hit animation Finding Nemo.
The announcement marks the latest in a long line of sequels for film studio Pixar, which was once renowned for its original stories.
2010's Toy Story 3 was followed by Cars 2, with a Monsters Inc sequel also scheduled for June next year.
Finding Nemo told the story of an overprotective clownfish, Marlin, whose son was captured by a diver.
Starring the voice talent of Albert Brooks as Marlin, and talk show host Ellen DeGeneres as his goofy, forgetful companion Dory, it made $867.8m (£555m) when it was released in 2003.
It is the fifth highest-earning animation of all time - and Pixar's second-biggest film after Toy Story 3, which took $1.06 bn.
The underwater adventure was also listed in the American Film Institute's top 10 animated films of all time.
Film flop
Stanton was one of the key figures at Pixar in the 2000s, with co-writing credits on A Bug's Life, Monsters Inc and the Toy Story trilogy.
As director of Finding Nemo and Wall-E, he also won the studio two Oscars for best animated film.
However, his recent foray into live-action film-making, as director of sci-fi movie John Carter, was deemed a failure.
Film company Disney said it expected to lose $200m (£128m) on the film after audiences failed to connect with the Mars-based flop.
Finding Nemo 2 will see Stanton committed to animation for around four years - the average production time for a Pixar film.
The script will be written by Victoria Strouse, whose The Apostles of Infinite Love made Hollywood's "Black List" - an annual report of the best unproduced screenplays - in 2008.
In the meantime, Pixar has several original projects in the pipeline - including The Good Dinosaur and an untitled movie about Dia De Los Muertos - the Mexican holiday of the dead.
The studio's latest film, Brave, is due for release in the UK next month. Set in the Scottish Highlands, it has already taken $244m (£156m) at the global box office.