Keith Allen defends "radical" drugs documentary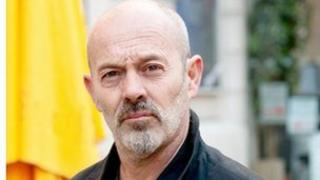 Keith Allen has defended a forthcoming Channel 4 series in which he is filmed taking drugs.
The musician and actor took MDMA, the pure form of ecstasy, for the upcoming documentary to examine its effects.
Health campaigners said the show ran the risk of being "voyeuristic" and "unrepresentative".
But the 59-year-old actor and musician said the documentary was designed as a "forensic analysis" into the physical and psychological effects of drugs.
Called Drugs Live, the "radical" four-part series aims to examine the claims and counterclaims made about recreational drugs by testing them in a monitored environment.
TV bosses at Channel 4 said the series, to be broadcast in the autumn, would "provide viewers with unmediated access to a live drug trial".
Speaking on ITV 1's This Morning, Allen said it was "insane" to suggest the show glamorised drug use.
"If you think that I'm glamorising the taking of drugs by spending an hour and 20 minutes for two consecutive Mondays in an MRI scanning machine, then you're insane.
"There were policemen taking part. There were definitely soldiers, people who'd never taken it before. It's a very, very forensic analysis, a neurological analysis of the effects of MDMA."
"Voyeuristic"
But Simon Antrobus, Chief Executive of the drugs charity, Addaction, said the programme risked being voyeuristic, and "ultimately unrepresentative of some of the wider realities of drug taking".
"There are a lot of associated risks with taking street MDMA. Not least the fact that you can never be sure what it is you've bought.
"As an example, we are currently hearing reports of 'Pink Ecstasy', which contains a highly toxic drug that is closer in make up to 'Crystal Meth' than it is to ecstasy.
"So, we wouldn't want anyone to come away from the programme thinking that MDMA is benign," he said.
Mr Antrobus said he hoped Channel Four provided a balanced view and included an insight into how all drugs can cause problems for people.
"We believe that this is a more interesting and worthwhile story," he added.
"Controversial"
The Transform Drug Policy Foundation also voiced concerns about the show, saying they were "not convinced" it was the right way to explore drug taking.
"There are lots of important issues around drug use in popular culture, said a spokesperson.
"From previous attempts, footage of people taking drugs is usually quite dull and probably unenlightening."
The study is being conducted by Professor David Nutt and Dr Robin Carhart-Harris, at Imperial College London.
Professor Nutt was sacked in 2009 as chairman of the independent Advisory Council on Misuse of Drugs after claiming alcohol and tobacco were more harmful than LSD, ecstasy and cannabis.
Allen, whose contentious documentary about the BNP leader Nick Griffin aired on Channel Four earlier this year, has long been outspoken about his drug use.
In 2007 it was reported that he enlisted his daughter, the singer Lily Allen, to help him sell drugs at the Glastonbury Festival when she was a baby.
He said on This Morning that he would be in favour of drugs being taxed, ensuring their use could be used to support public services.