BBC reduces star pay by £9.5m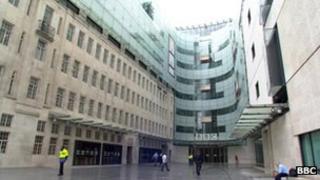 The BBC has reduced its star pay by £9.5m, spending just over £203m in the past financial year on salaries for its presenters and "talent".
The BBC's annual report revealed 16 individuals were paid more than £500,000 in the financial year 2011-12, three fewer than the year before.
Meanwhile, director general Mark Thompson earned £622,000 in the past financial year - down from £779,000.
He earned 15 times more than the median pay of a BBC employee.
Thompson is stepping down from his role in September and will be succeeded by the BBC's current director of Vision, George Entwistle.
He will be paid significantly less - £450,000 in his first year.
In total, the combined salaries of the BBC's executive directors fell from £5,714,000 in 2010-11 to £2,560,000, largely due to the number of board members being reduced from 13 to seven.
Two of the seven who stepped down are still on the BBC payroll - Lucy Adams, who is the corporation's head of business operations, and Peter Salmon, the director of BBC North.
Lord Patten, chairman of the BBC Trust, said: "We have continued to push hard on value for money, encouraging the BBC to drive down senior management pay and draw up a plan for living in more financially constrained times."
The annual report also looked at the BBC's productions. Spending on the BBC's TV channels decreased by £37.1m in 2011-12, down to £2.3bn.
But radio spending increased by £2m to £640.1m.
Drama output across BBC television fell by 156 hours, although there was a significant increase in drama on BBC radio - up 419 hours.
But new British drama programming increased by 144 hours.
Lord Patten said: "One of our main priorities is ensuring the BBC produces genuinely distinctive programmes, and progress has been made here, although there is more to do."
Entertainment programmes increased by 327 hours, while the same genre also went up on radio by 568 hours.
Factual content on TV increased by 307 hours, while music and arts fell by 90 hours.
Televised sports decreased by 389 hours and there were 602 hours less of sports coverage on BBC radio.
Staff numbers were reduced by 342. There were 470 senior managers in the BBC last year, a reduction of 70.
The BBC also announced that it has exchanged contracts for the sale of Television Centre in west London to property developers Stanhope Plc for a total price of £200m.
The BBC put Television Centre on sale in June 2011 and has operated on the site since 1960.
The iconic building opened on 29 June 1960, as the BBC's first purpose-built centre for television production.
Staff based there are now either based in Salford or are in the process of moving to the newly extended Broadcasting House in central London.
The BBC's financial officer, Zarin Patel, said the BBC had a strong financial foundation.
'Explain better'
The corporation has an underlying surplus of £249m, thanks to changes to the staff's pension scheme, which saved £45m, and the one-off sale of BBC Worldwide's magazines business for £95m.
The BBC saved a total of £499m since 2008-09, exceeding the 3% target set by the BBC Trust.
The corporation has a target of 11% in efficiency savings by 2016 as part of its Delivering Quality First strategy.
A survey for the BBC Trust showed that 56% of UK adults agreed that their household received good value from the licence fee.
The annual report stated that this figure had remained stable for the last four years "but suggests that there is a need to better explain how the money is being spent".
The BBC continued to reach almost every household in the UK, with 96% of people consuming BBC content via TV, radio and online every week.