London 2012: Tree of light battles weather for finale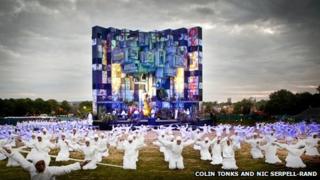 This great British summer is not exactly ideal for an outdoor performance.
But it is the year of the Olympics and the show must go on, no matter what the forecast is.
Tree of Light is a project celebrating all that nature has to offer and the grand finale is taking place in the very apt Oxfordshire countryside estate, Stonor Park.
The show features 1,200 performers from 40 communities and has already battled the elements for audiences in Oxford and Reading, as part of the Olympic torch relay celebrations in July.
Now it is time for the third and final show, which is being put on as part of the London 2012 Festival .
Artistic director Charlie Morrissey, who has worked on many large-scale outdoor arts projects, got together with set designers Block9 and composer Orlando Gough to try to bring a relatively simple concept to life.
"The brief was to make a performance which celebrated trees and the environment," he explained.
"We got together and spent a lot of time thinking about making something interesting.
"We didn't want to make a "goody two shoes" cautionary tale about the environment, but what we wanted was something we could get our teeth into and something we would want to see ourselves."
The tree
So Block9 came up with "the tree".
The set design duo, Gideon Berger and Steve Gallagher, are renowned for their specially curated field at Glastonbury Festival.
They were brought on board for Tree of Light by creative producer Stewart Collins, who was a fan of their work
After being given the title of the production, they set about putting their Block9 spin on it.
"We tried to approach the design brief set in a way that would do justice to our reputation," Mr Berger said.
"Some of our other structures have really been larger than life, that play on scale as a tool to wow and impress the audience.
"We went for a tried and tested formula in terms of the structure and that was to go for something huge and imposing."
Block9 decided they wanted the structure to appear as if 50 tonnes of concrete was floating in the air.
"That was a challenge but it was embraced form a set design and engineering point of view. It's all scenic trickery."
For the set designers it was a chance to get involved with the Olympics, which for Mr Berger was a great opportunity.
"It's very exciting," he said. "It's presented a lot of new situations and it's been a pleasure to work with the key members of the team.
"They are brilliant people. We've waded through the project together and it's been great."
The final performance of Tree of Light will be in Henley at Stonor Park, nestled in the Chiltern Hills.
"We're really excited about it because it's a wonderful site," Mr Morrissey said.
"It's got a fantastic backdrop of trees and we're using the space in a very nice way, adding more performers to it.
"In Oxford we waded through mud to get the performance out there. We're hoping it's going to be a gorgeous day when people are there and can have picnics as the performance arrives."
"This time of year you expect there to be some rain, but in Oxford it was incessant. It was getting muddier and muddier.
"But we put tracks and straw down. On the evening it was ok."
Mr Morrissey said that for the company, the first performance went well and that was partly down to community participation.
"It was completely delightful and a fantastic explosion of energy.
"That's what you get from working with the community. They never have this experience. Their energy is so evident and it's a part of the content that you're seeing.
"It's as brilliant as any professional performance."
Bicycle power
The story centres around workers in a factory - represented by the tree which generates oxygen.
Around this "ancient industrial power facility" the community has lost all its trees.
Dance and folk stories explain how such environments are devastated.
In the factory, workers speed up the process of pumping oxygen into atmosphere for the rest of the community.
But it is not just the plot which has a sustainability theme - a company called Electric Pedals provides bicycle generated electricity to help power the event.
Mr Morrissey explained the idea was to incorporate the Olympic values as much as possible.
"We were looking at excellence and involvement and legacy - Olympic values are innately there where when you talk about a great big performance like this."
"It's great to be a part of it. It's fantastic that people have had the imagination to make lots of great big ambitious things happen in the spirit of that."
After two years in the making it sounds as if it is going to be hard for Mr Morrissey to tear himself away.
"I feel about 900 years old," he laughed.
"Older and greyer. But then I do feel really energetic - getting to the end of Oxford was a lot of three in the morning finishes, and now it's the final one and I really want to get it right and make it happen."
The weather might have a part to play in how successful the performance is, when it takes place on Saturday, 21 July.
But for the creative team, they have little doubt about putting it on.
"For some reason I'm always pathologically optimistic. I'm touching the wooden table," Mr Morrissey said.
"I've never been rained off and I've done a lot of them. I did one on a marina and it bucketed it down. But it stopped as the show began. Then the heavens opened at end of performance.
"Surely it must be about time we got some sunshine."