Zsa Zsa Gabor's husband wins control of her affairs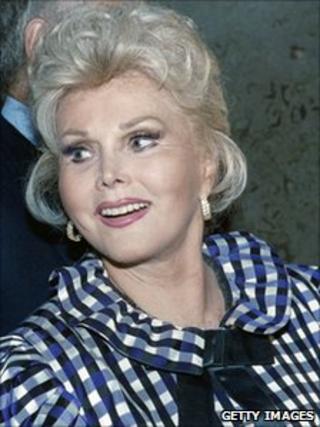 After a lengthy court battle, Zsa Zsa Gabor's husband has won the right to control the ailing actress's affairs.
A Los Angeles judge appointed Prinz Frederic von Anhalt, 69, as Gabor's conservator for six months.
He had been challenged by Gabor's daughter, Constance Hilton, with both parties accusing the other of mismanaging the star's fortune.
The actress, who is 95, has suffered from ailing health for years. The court heard she was "bedbound" and frail.
A declaration by Dr Debra Judelson described Gabor as being "unable to hear or see clearly, unable to respond or answer questions" and "agitated when outside of familiar environment".
Los Angeles Superior Court Judge Reva Goetz said a conservatorship was necessary for Gabor's wellbeing, and set a further court appearance for 9 January, 2013, for an update on the how the agreement was working.
Both von Anhalt and Constance Hilton attended Wednesday's hearing, but did not address the court.
They had previously reached an interim agreement that von Anhalt would be temporary conservator, leading to Judge Goetz's ruling.
Their disagreement had centred on the ability of Hilton and her mother's friends to visit Gabor, as well as Gabor's financial protection.
Under the conservatorship, von Anhalt will continue to make medical decision about his wife's care, while Hilton's lawyer will receive monthly reports on her treatment and financial affairs.
Outside the courtroom, von Anhalt declared "victory!" and said he was happy with the outcome.
Hilton simply said she had come to court "to protect my mother and me."
The veteran actress was partially paralysed in a car accident in 2002 and suffered a stroke in 2005, forcing her to use a wheelchair.
Doctors were forced to amputate her right leg in 2011, after it became infected with gangrene.
In her heyday, Gabor was famed for her thick Hungarian accent, and starred in the films Moulin Rouge, Touch of Evil and Queen of Outer Space, among others.
But she is better known for having had nine husbands, including hotel chain founder Conrad Hilton, with whom she had Constance, her only daughter.
Gabor's marriage to von Anhalt has lasted 25 years.