Rolling Stones at 50: Your stories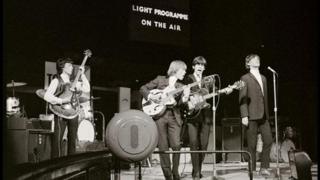 The Rolling Stones performed their first public gig half a century ago at the Ealing Jazz Club.
The band members were part of a new generation of music-makers, bringing fresh new sounds and a new fashions. Fifty years after their first gig, BBC News website readers have been reflecting on what the Stones mean to them, here is a selection of their stories.
Ed Parkinson, Herefordshire, UK
I was a 16-year-old boy playing in a band called the Ko-dels in and around Manchester in 1963. We were really excited about a gig we'd been offered at the Oasis Club in Manchester. We were on the same bill as the Rolling Stones.
We got on stage and started playing. Suddenly, I heard loads of girls screaming and I thought to myself' "We're doing well here". Then I saw that the girls weren't looking at us, they were looking the other way! Mick Jagger was walking through the club to set up for his gig.
When they started playing, the atmosphere was fantastic. Several girls were in a state of hysteria and fainted, they were taken to our dressing room to recover.
After the show, when all the artists were clearing up, Jagger came over and asked if we wanted his autograph. We felt a bit confused and said "no, not really" because at that time we thought we were going to be bigger than the Stones!
Compared with what we were doing musically, they were brilliant. They had decent equipment and they even had a keyboard which was a new thing then.
The Rolling Stones inspired us to do better things. Those were interesting times, with pioneering music.
Chris Taylor, Valrico, Florida, US
In 1962 I was 19-year-old student working a summer job and going to the Ealing Jazz Club at weekends.
It was the place to go to because that's where the au pair girls hung out, it didn't do us any good but we still went there!
The Stones were unknown then, they were only second on the bill. Mick was always at the club and he would just get up and jam with whoever was on stage.
He always wore a white suit with bell-bottoms. He looked good. He had something different about him.
He won't remember me now, but we used to drink beers together. We would sit at the bar most weekends. We spoke a lot but never about the band.
At the time I found his music too rocky for me because I was into rhythm and blues, but the more I listened, the more I realised they were a super group. They were exciting and different.
I have very fond memories of my time with Mick Jagger. I wish I'd kept in touch because maybe then I'd be a lot better off!
Barry Bunting, Gravesend, UK
I remember the first time I saw the Stones. I was 17-years-old and in a band called The Tridents.
At the time I was into Cliff Richard and the Shadows.
Some friends said we should go and see a band called the Rolling Stones, they were performing at Richmond Rugby Club nearby.
So all four of us in the band bundled into our van and went to the gig.
The rugby club was jammed when we got there. We opened the door and it was like an oven.
The Stones were already playing when we arrived. We pushed our way into the back and had to stand on tiptoe to see anything. I could see Jagger's head, Jones' head and Bill Wyman standing at the side.
There were people hanging from poles supporting the roof to try and see.
The music was so different to the pop music of the day. Their music marked the start of a new generation.
I dumped my suits and ties and went and bought myself a leather jacket, some jeans and an open-necked shirt. I also bought a harmonica.
It was a very exciting time to be young.